Dogs: Breeze & Sky
Breed: Australian Shepherds
Age: 7.5 years & 4 months
Human: Yin Choo
Their Motto in Life: So intelligent they could write a PhD, yet so humble they refuse to do my taxes!
Describe Breeze & Sky's breed paw-sonality? What makes them so special?
Australian Shepherds are known as the clowns of the working sheepdog world. They have an excellent work ethic and are naturally eager to please. They are almost human-like in intelligence and enjoy working closely with their humans, but they aren't quite as intense as their border collie counterparts. Goofy and adorable, they come in a variety of colours, tail lengths, and personality. They are an active breed but also love snuggling up close to their family on the couch. They are a dog that needs a job.
What's life like with an Australian Shepherd?
Life is great! It's made me become much more active and social. I have gotten far more exercise and have made lots of new, amazing friends from getting involved in dog sports and various activities. More importantly, my life has been thoroughly enriched with the meaningful bond I've formed with my dogs. Before, I was basically just trudging through each day. Now my life has meaning.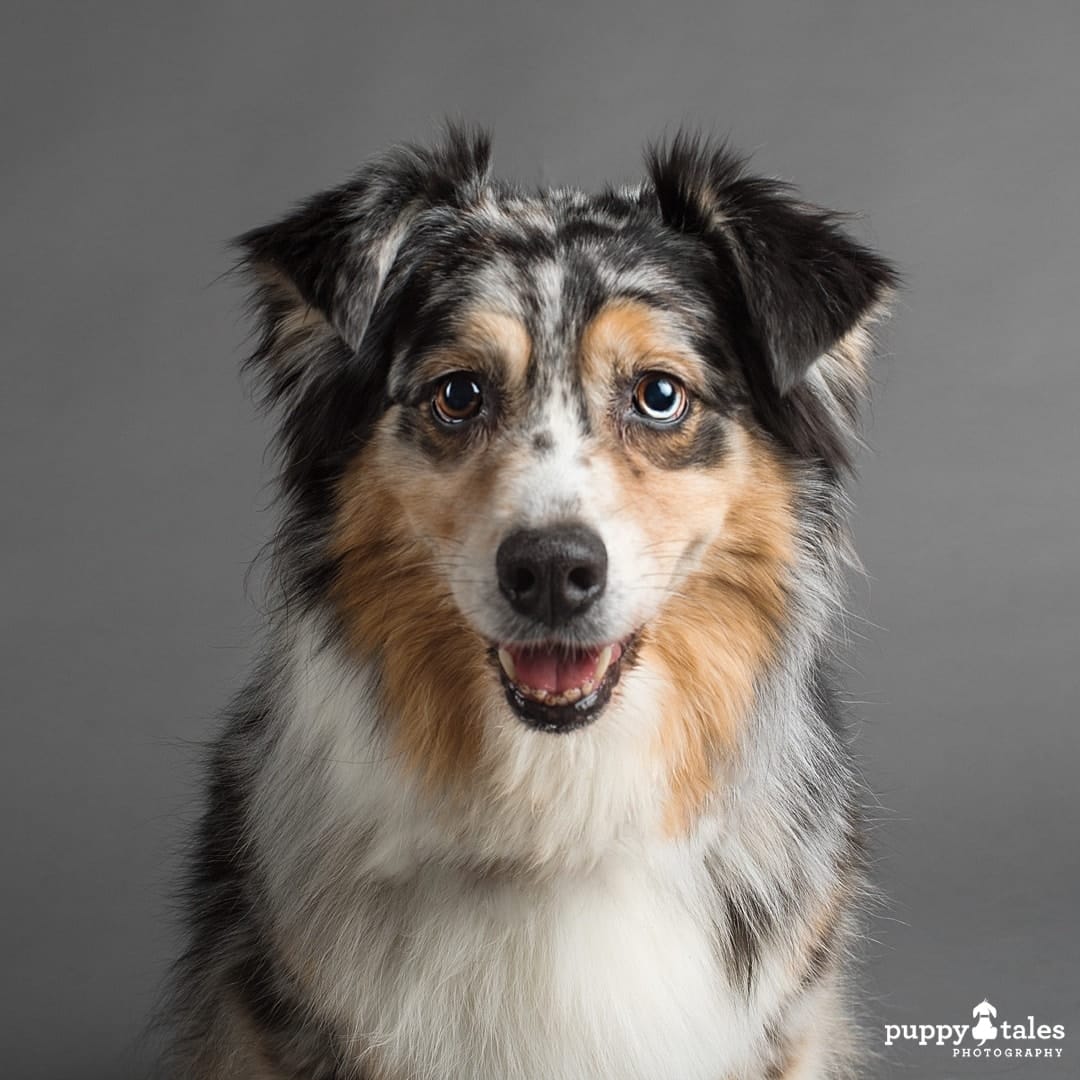 What was different from your expectations of an Australian Shepherd, once you had Breeze?
I expected the breed to be much more high maintenance and active and/or destructive. Luckily, I must've been building that up in my head because Breeze is by far the easiest dog I've ever had to live with. Sure, she needs her mental stimulation but most days she is also content to just curl up in my lap. I also didn't realize just how intelligent they are – she taught herself how to tell me she needed the toilet by gesturing towards the doors within the hour of coming home and this was a dog that had never lived in a house before. She knows to lead me to things she thinks are interesting. She almost seems to read my mind when I talk to her. It can be a little bit unnerving!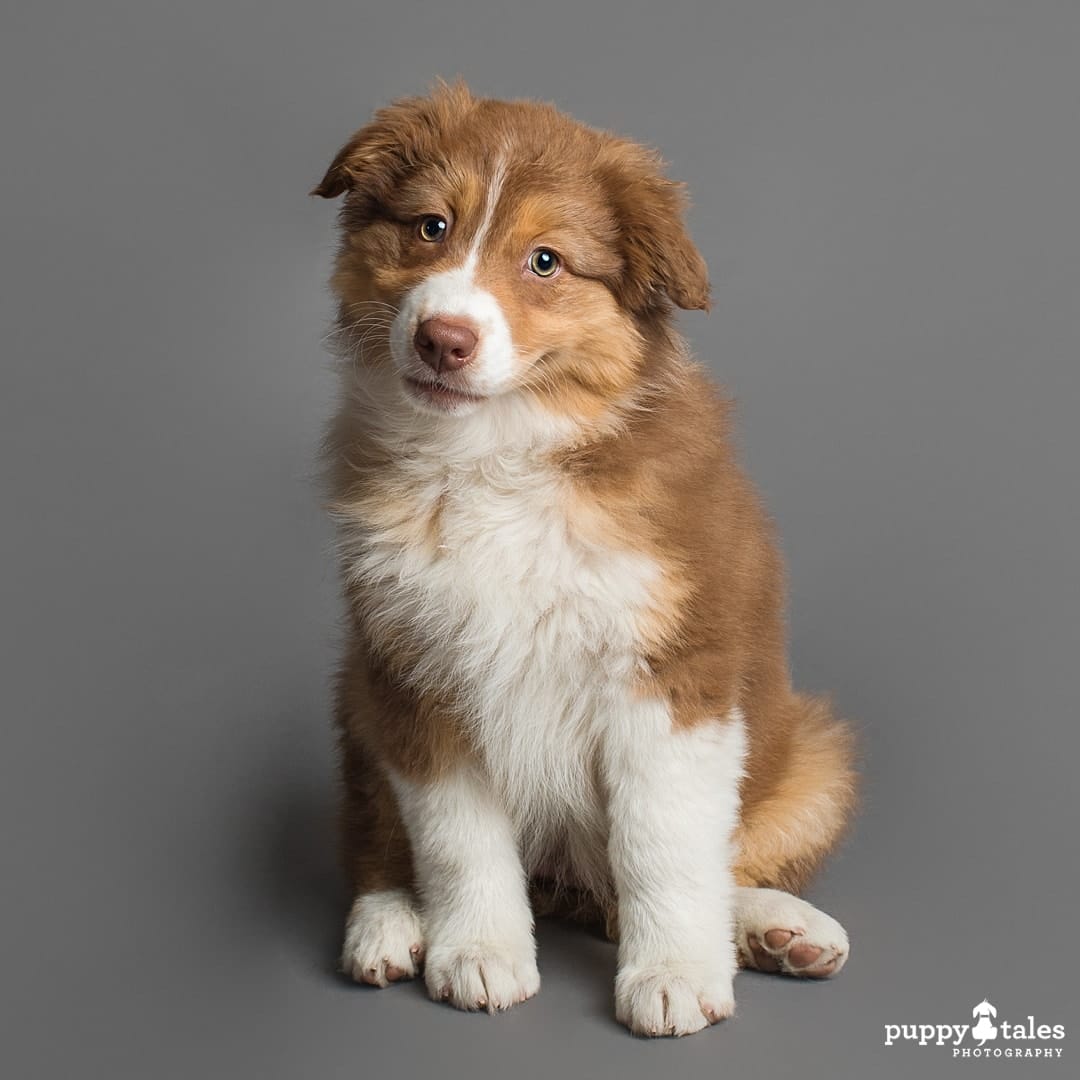 Are Breeze & Sky like most other Australian Shepherds, or do they have some unique traits?
I think Breeze is leaning more towards the laid-back end of the scale of the breed and Sky I can't tell yet. I know of other Aussies that are much more demanding and energetic than Breeze. She is also very reserved (which is expected of the breed) and possibly more shy compared to other Aussies. She also, ironically, is not great at herding even though her father is the most titled herding Australian Shepherd in Australia!!
What do you love most about being a pet parent to Australian Shepherds?
It's all the best parts of having a kid, a best friend, and a partner, without the mess, temper tantrums, demands and drama!! My dogs understand me more than most humans and never complain! I love our bond, I have never had such a strong bond with any other animal or human before, sounds dramatic but true!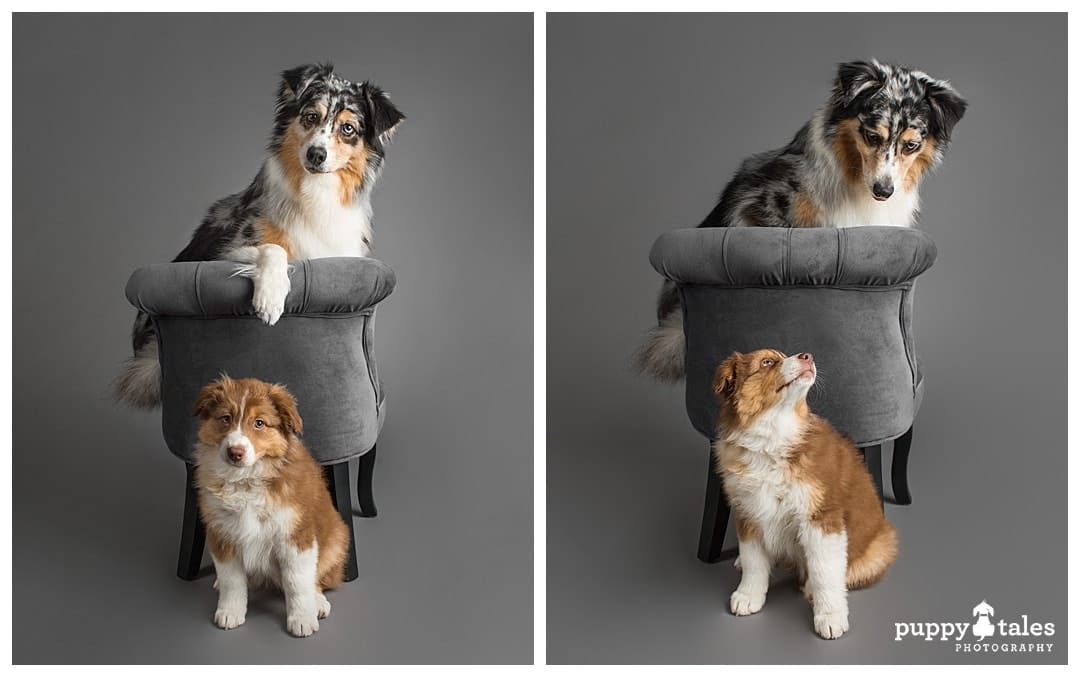 What's not so paw-fect about an Australian Shepherd?
If not properly socialized, Aussies can be excessively fearful, reserved and/or shy with other dogs and humans. They have strong guarding tendencies so careful training and socialization is essential to curb that. Also, they are a working breed and do need a job otherwise they will invent their own – one which hoomans possibly won't approve of!
What things should others be aware of before getting an Australian Shepherd?
You must be able to provide adequate mental stimulation, not just physical exercise. Aussies have a brain that needs to be worked. Don't underestimate how smart they are – I know an Aussie who learnt to open fridges, doors and cupboards to eat tubs of butter and cat food! They should not be left alone without stimulation for long periods of time. Proper socialization is essential to prevent issues. Aussies bond very strongly with their owners – they are a dog for life!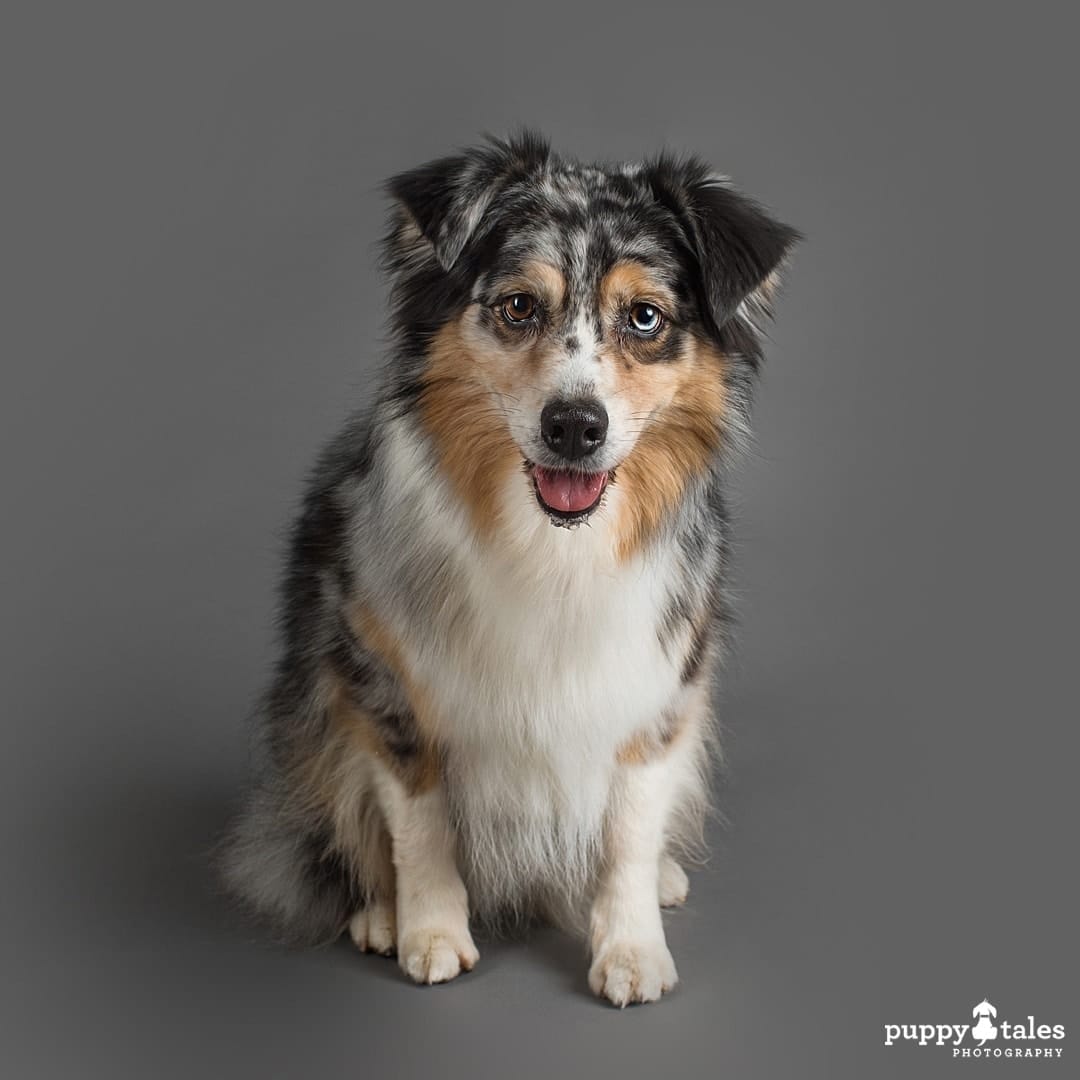 What's your first memory of Breeze?
My first memory was meeting her in person for the first time – I had researched the breed prior and knew that they came in different colours. I had seen photos of my girl – who is a blue merle – and ironically had thought that she looked quite ugly from the photos. I'll never forget the first time I saw her in the flesh, her breeder brought her out to meet me and my heart skipped a beat. I'd never seen such a beautiful dog in my life and couldn't imagine how I thought she would be ugly. I didn't believe in love at first sight but this was definitely it. Then her sweet, gentle nature won me over. I was in love within 5 minutes.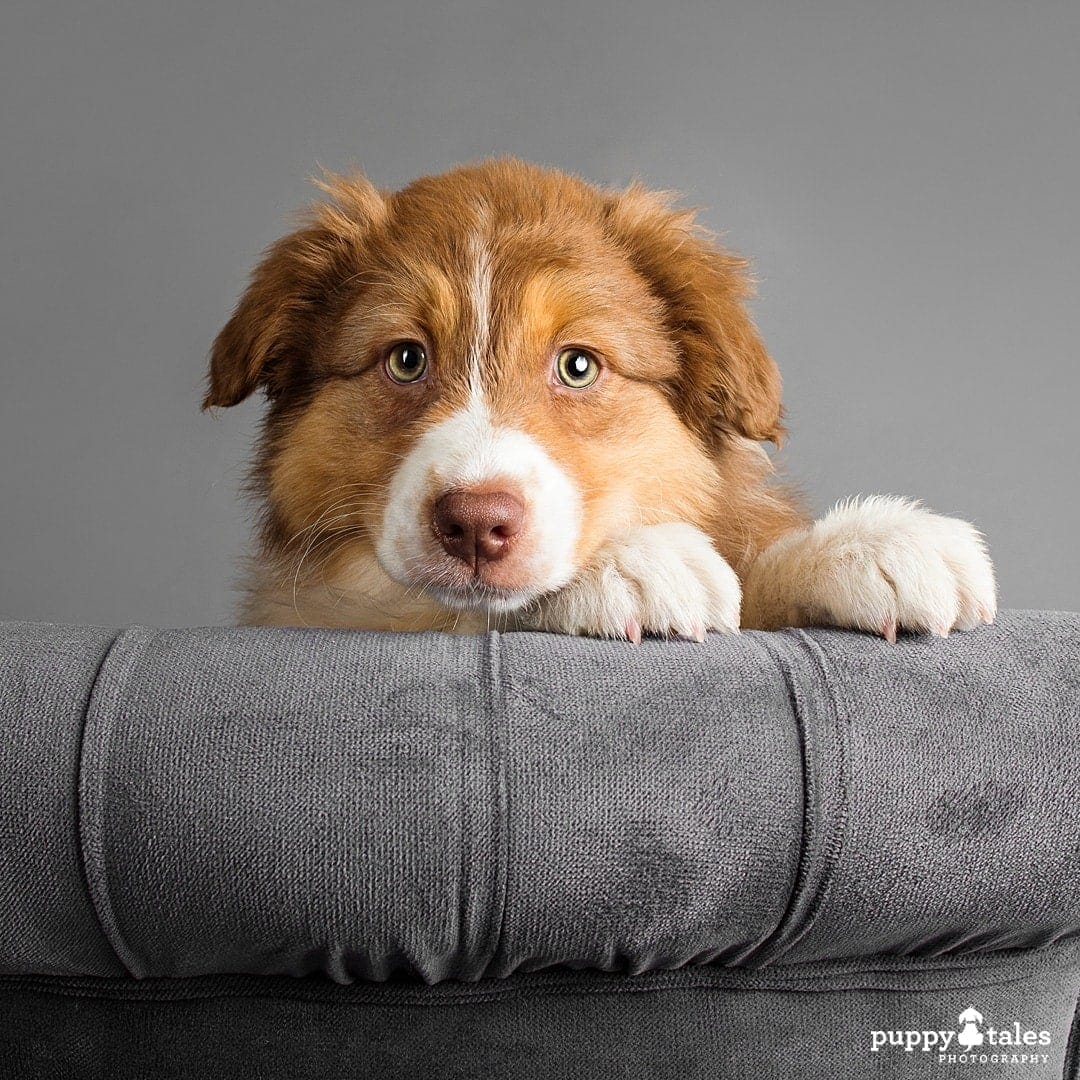 Are there any events, communities or groups that are especially wonderful for Australian Shepherds?
The 'Aussies of Melbourne' Facebook group regularly organizes playdates and meet-ups. The Australian Shepherd Club of Victoria also organizes social events, as well as hosts herding fun days, gatherings, shows, trials, and more. You can also find them on Facebook.

Kerry is 'Top Dog' here at Puppy Tales. With her own adored dogs, she completely gets that your four legged furry buddy is absolutely part of the family. That they sleep on the bed, that you want to take them everywhere, that you plan holidays so they're included & that their presence makes your life incredible.