Meet the Border Collies at the snow that I had the privilege of photographing:
Bo – Border Collie x Siberian Husky, 12 years old
Cruise – Border Collie, nine years old
Peak – Border Collie, two years old
Their Humans: Vicki & Mark
Session Location: Dinner Plain, Victoria
Adorable Border Collies at the Snow
This Snow Dog Photography Session features not one but three stunningly beautiful Border Collies. And boy, did they frolic in the winter wonderland of Dinner Plain. Meet Bo – a Collie x Siberian Husky mix with beautiful blue eyes and a big, fluffy black and white coat; Cruize – the black and white border with a distinctive white face and green eyes; and Peak – an athletic chocolate tri with "naughty spots" on his face and legs. Read on to learn more about these loveable action heroes!
Vicki, Mark, and their bevy of Border Collies enjoyed the eve of their session in the nearby town of Bright and drove to Dinner Plain the morning of their photo session. Overnight snowfall made for a slow trip up the mountain, but the resulting photographs and a stunning sunrise certainly made it worthwhile!

Bo came into the family when he was seven years old after his pawrents spotted him on Pet Rescue. He is a kind, affectionate boy with a touch of wildness, and while their early time together wasn't always smooth sailing, Bo's big personality ultimately changed the course of his humans' lives.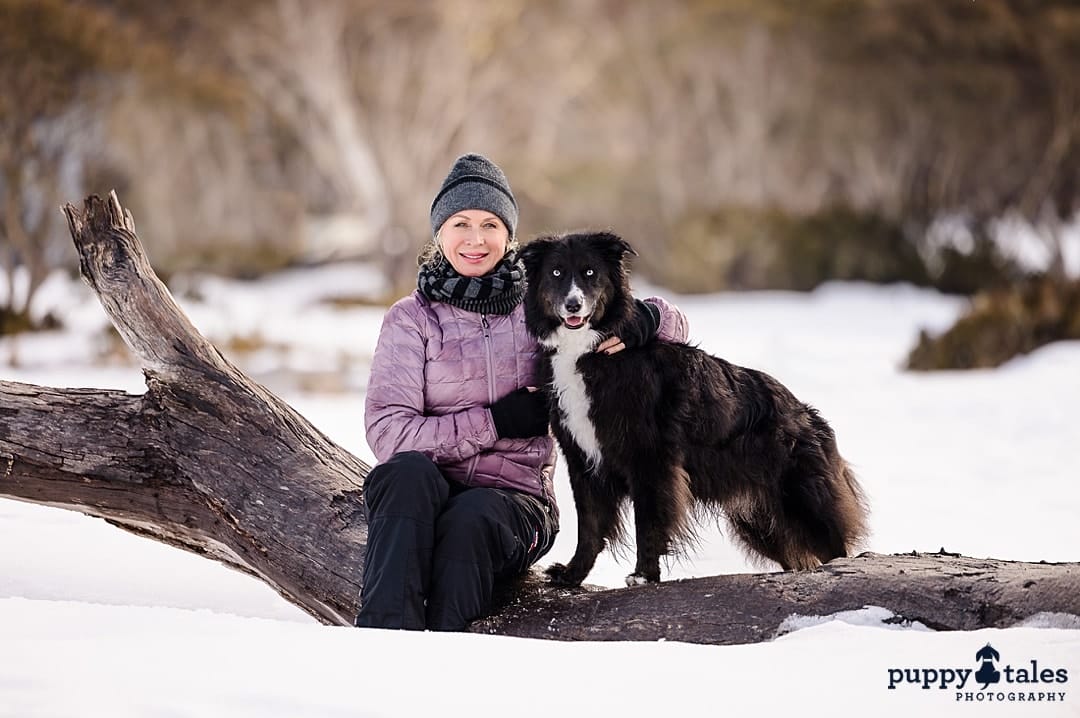 Cruize took his pawrents somewhat by surprise. They didn't intend to add a puppy to their fur family then, but they were present at the birth of most of his litter and couldn't resist him! He grew into a sweet, sensitive, dependable boy and an incredible agility partner for Vicki!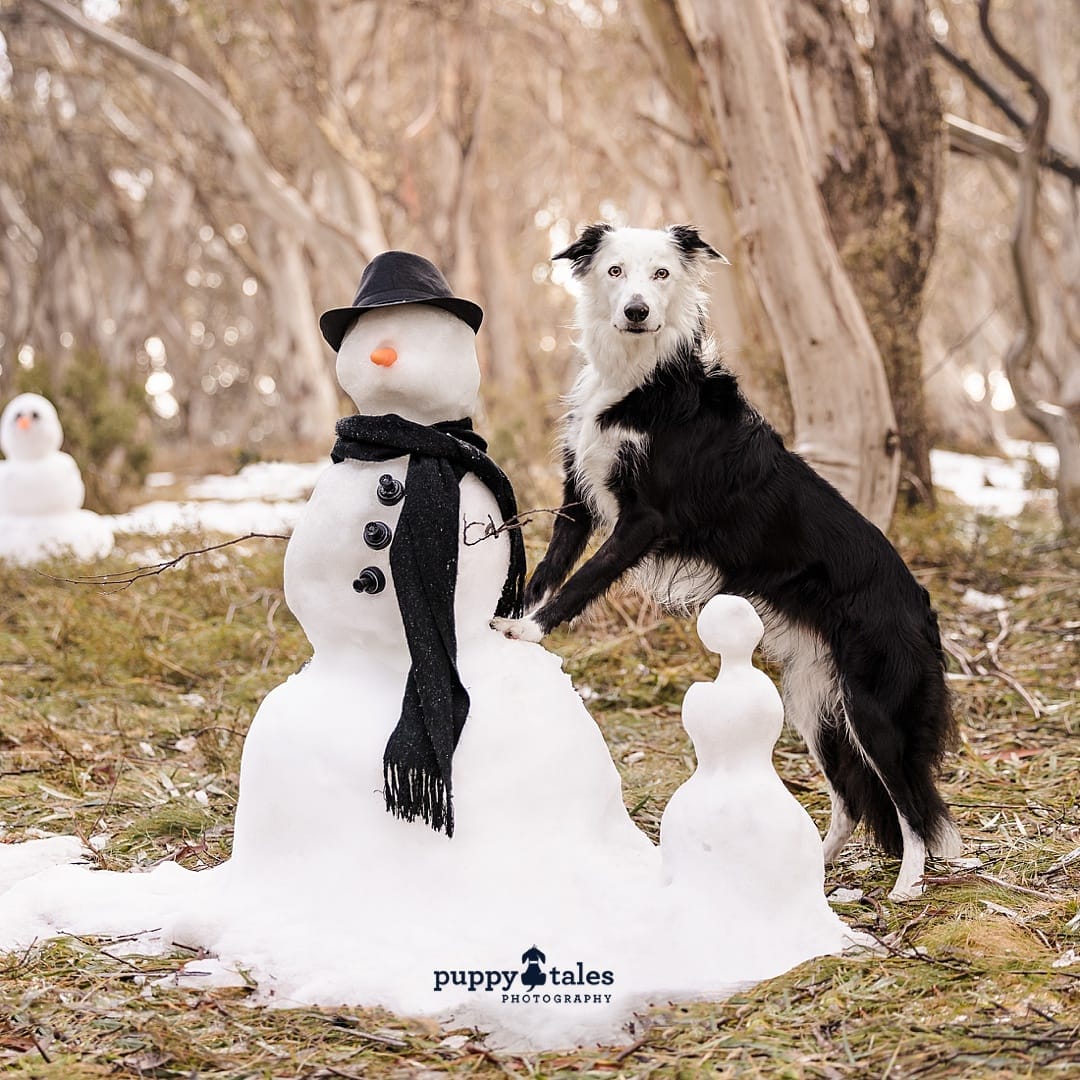 Peak is bold and intelligent and has been a challenge from day one! While he has started to follow in the footsteps of his brother Cruize, with a growing interest in agility games, working sheep has become his true love! While he still has somewhat of a naughty streak (apparently – I didn't see it!), his affectionate nature makes it impossible to stay miffed with him.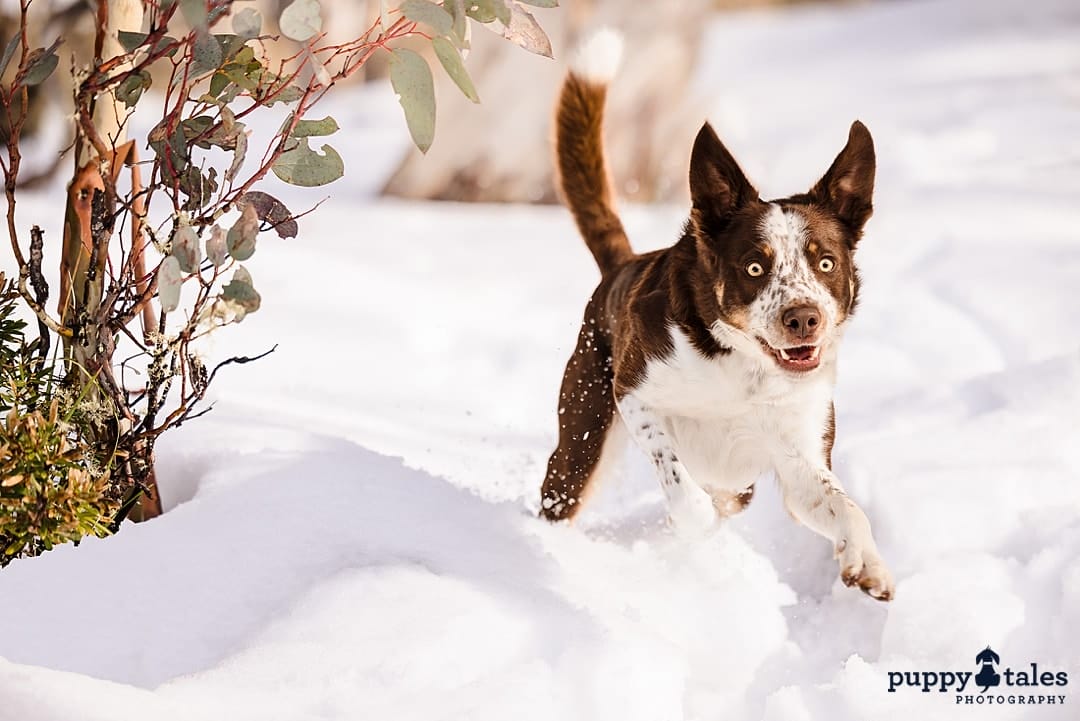 Border Collies are known for their intelligence; this trio is no exception. All three are highly trained and have a love of tricks! Amongst their repertoire are bowing, spinning, and saying their prayers. Cruize even hugs Bo – an extraordinary sight to behold!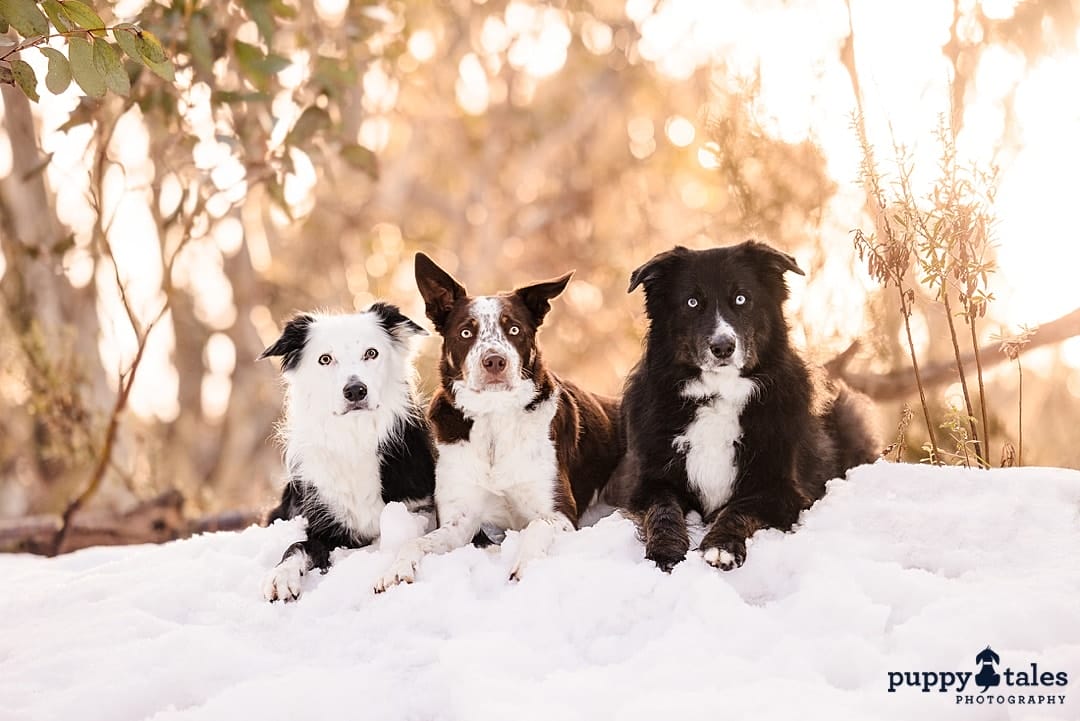 While Vicky and Mark were initially considering a single piece of wall art of their Border Collies for their bedroom, they couldn't resist settling on two series for their living room: one, a four-piece collection containing a pawtrait of the whole family, and an individual photograph of each fur baby that captured their unique personalities; and two, a vibrant action series! And the snowy landscape proved the perfect compliment to their decor.
If you're considering a photography experience but aren't sure what kind of session would be best for you and your pooch, book a quick call to discuss your options and brainstorm what environment would best result in artwork that looks beautiful in your home.
And if you're all set to immortalise your furry friend through an unforgettable Snow Dogs Photography or Retreat experience, register your interest now!
Click on the video and discover more photos of Bo, Cruize, and Peak's adorable shoot for Project Dogalogue™. It's sure to be paw-some!

Kerry is 'Top Dog' here at Puppy Tales. With her own adored dogs, she completely gets that your four legged furry buddy is absolutely part of the family. That they sleep on the bed, that you want to take them everywhere, that you plan holidays so they're included & that their presence makes your life incredible.