Picture your dream date. A hot, perfectly brewed cappuccino. A beautiful sunny day in Melbourne. A slice of melt-in-your-mouth chocolate mousse cake. You look across the table and see the deep hazel eyes of your gorgeous …. furry….date!
Ah, perfection.
In all seriousness, there's nothing quite as fantastic as a pawsome day out with your dog. And just as you enjoy your human treats, your doggo does too. And they deserve a special occasion. So if you're looking for the perfect puppuccino-pairing for you and your dog, don't go barking up the wrong tree. We've done the leg-work fur you….. Here are the best cafes for dogs in Melbourne and Victoria.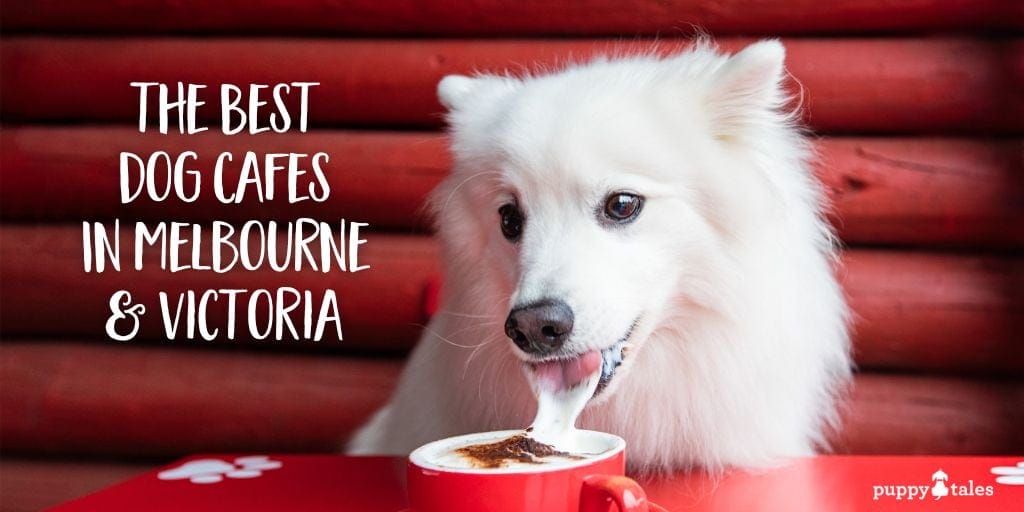 Love to have this info as a downloadable guide to keep and take with you? We've got you….!
Every Dog Has Their Latte
Before we sniff out the best spots for you and… well, Spot (😉), here are a few thoughts as to why you'll love heading out to one of Melbourne's furbuous dog cafes:
Fun — This one's fairly obvious. These Melbourne dog cafes give you the chance for a doggo date and what's better than having your best friend by your side. But it's also tremendous fun for your dog. All the new sights, places, smells, fellow furry friends and, of course, treats just for them, bring oodles of doggy delight!
Inclusivity — I never love heading out with Keiko and Summer at the door watching me leave. In their doggy hearts, they think I'm out on a big adventure or an awesome walk without them! That's why I love taking them to a place where they are not only allowed but also celebrated. Including the furry kiddos brings us all such delight.n
Socialisation — It's always great to give our dogs every chance we can for them to mingle with other pooches. Something we often forget about these outings is that they also give us the chance to meet new people and make new fur-ever friends with like-minded people.
Something New — There's a certain wonder I get whenever I experience something new. It's like finding a treasure you didn't know you had lost. The dog cafes in Melbourne and beyond gives you a great chance to discover something new and exciting with your pup. You could even think of it as a bucket list activity for your dog!
'Please, Allow Your Dog on The Furniture'
The great thing about dog cafes is that they are made for dogs. This means that the 'no dogs on the couch' rule probably won't apply.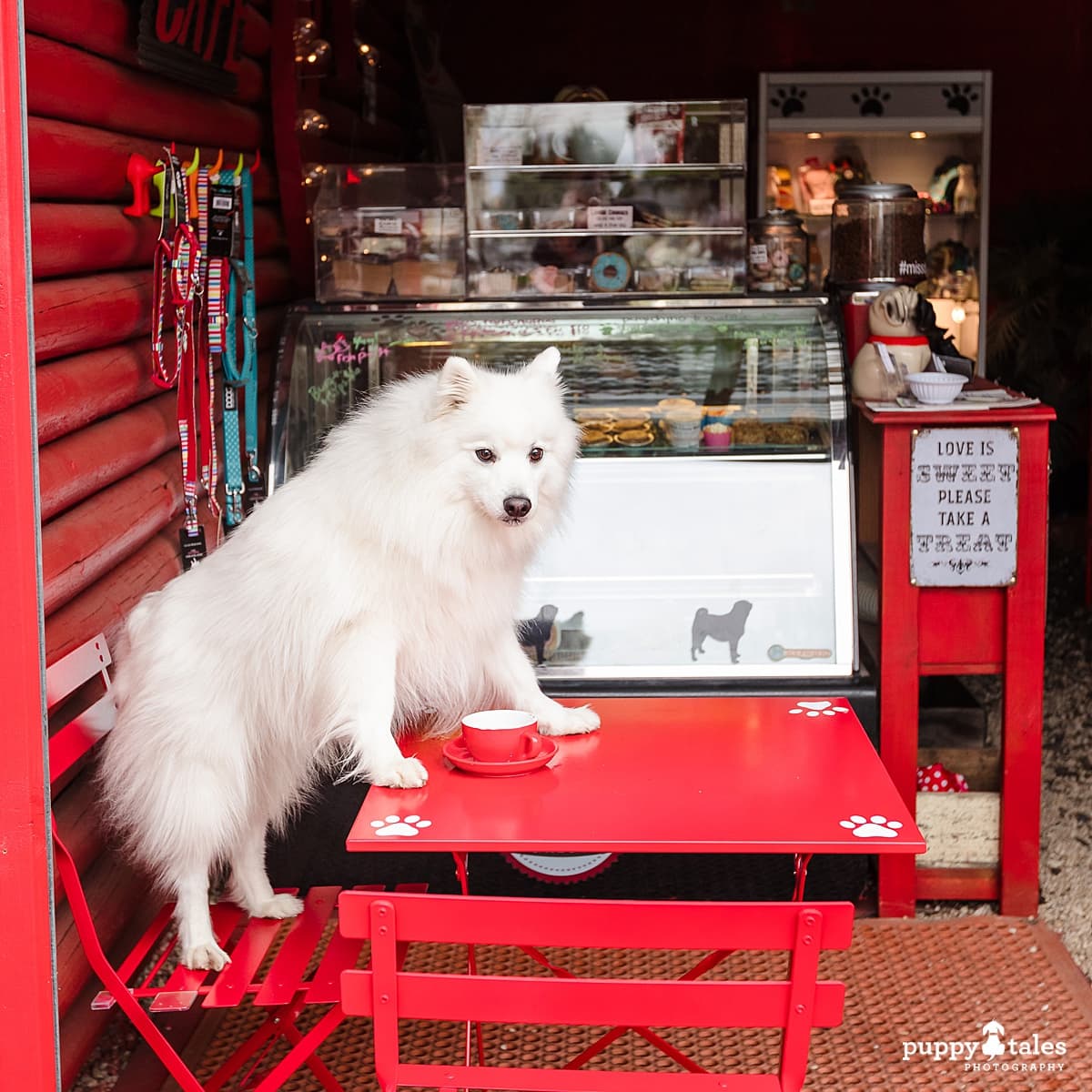 Just because things are a bit more relaxed at a dog-friendly venue, it doesn't mean that all the rules have gone out the window. There are a few things you should still keep in mind. You don't want to be THAT fur-parent.
Don't let your dog approach other tables or beg for food.
Don't let your dog approach other dogs or humans unless invited.
Don't let your dog bark, whine or otherwise create a nuisance that could annoy others there.
If your dog's having an off day or is a bit outta control, cut your visit short and try again another time.
Remember that every pooch and their people are there to have a great day out with their best friend!
Tips for Training a Cafe Friendly Dog
If you're planning to take your doggo out to one of the dog cafes in Melbourne, it's a good idea to start teaching them some table manners. This will make the experience so much more enjoyable for you, your pooch, and the people around you.
Here's what you can do to prepare your dog beforehand:
Start your dog young so they learn to be calm around a lot of people, other dogs and distractions.
Walk your dog beforehand to get rid of excess energy (and take care of any 'wee' little needs on the grass).
Bring along a favourite toy to keep your dog occupied, especially if they're young and are going to be looking to play.
Make sure your dog is comfortable. Be especially aware of the temperature. Make sure they're not too hot in the sun, or that they're not lying on a cold or uncomfortable surface.
Find a spot away from foot traffic so your dog won't get tripped over or get in the way of chairs being pushed back.
Reward good behaviour by praising your dog. Remember to pay them some attention when they are quiet and well-mannered. If you only respond when they misbehave, they may associate bad behaviour with getting attention.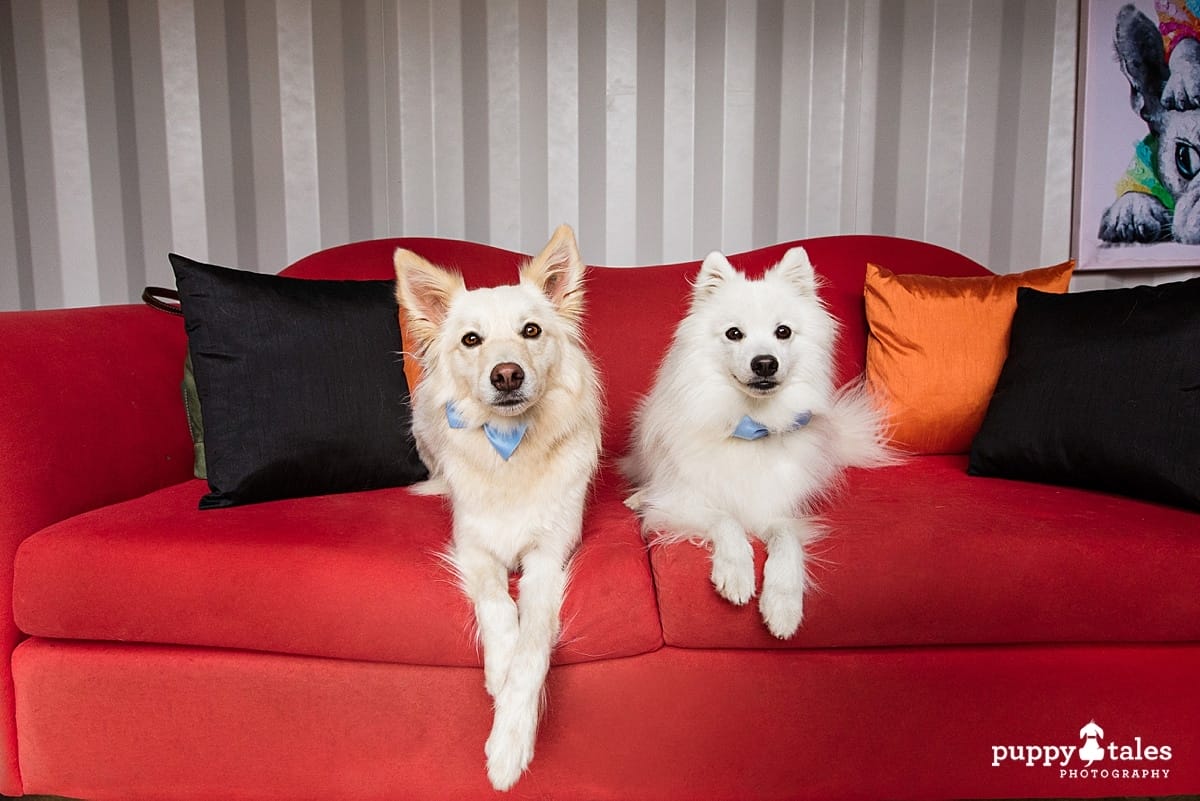 Dog Cafes in Melbourne & Victoria — The Ultimate Doggy Date Destinations
So without further ado, here are the best places in Melbourne and Victoria to enjoy a great day out with your dog!
Hours: Fri 10:30am – 3:30pm, Sat & Sun 10:30am – 4:30pm
Address: 14 Mornington Tyabb Rd, Tyabb
Highlights: Dog treats, custom dog cakes, gift shop.
It's on-leash only in the surrounding area but there's a penned-in area so if it's quiet your dog may be able to enjoy their treat in there. Drinks and snacks for the humans are available just across the way at the Rattling Red Cafe.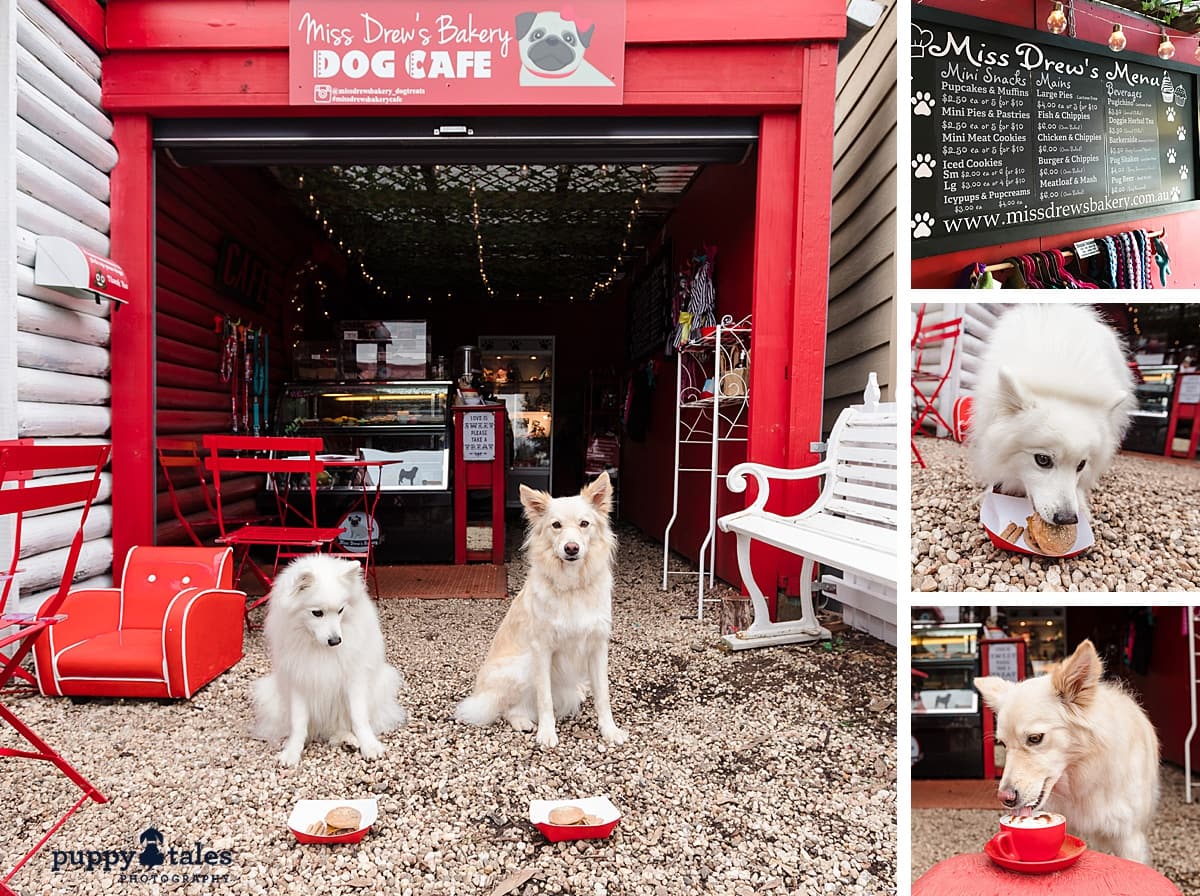 Hours: Wed & Thu 10:30am – 3:30pm; Friday 9:30am – 7:00pm; Sat 8:30am – 9:00pm; Sun 8:30am – 4:00pm
Address: 103 Grey St, St Kilda, VIC, Australia, Victoria
Highlights: Crepes & Puppachinos (made by a certified dog nutritionist), Dog birthday parties, Dog cafe training, Secure outside area.
Chez Misty advertises that they are a human-friendly dog restaurant and that's exactly what you'll find there! They have a menu for people and a menu for dogs. On the people menu you'll find Galettes (savoury crepes) & sweet crepes made from healthy (organic where possible) ingredients. On the dog menu there's pupcakes, puppachinnos and, on weekends, a dog dish of the day!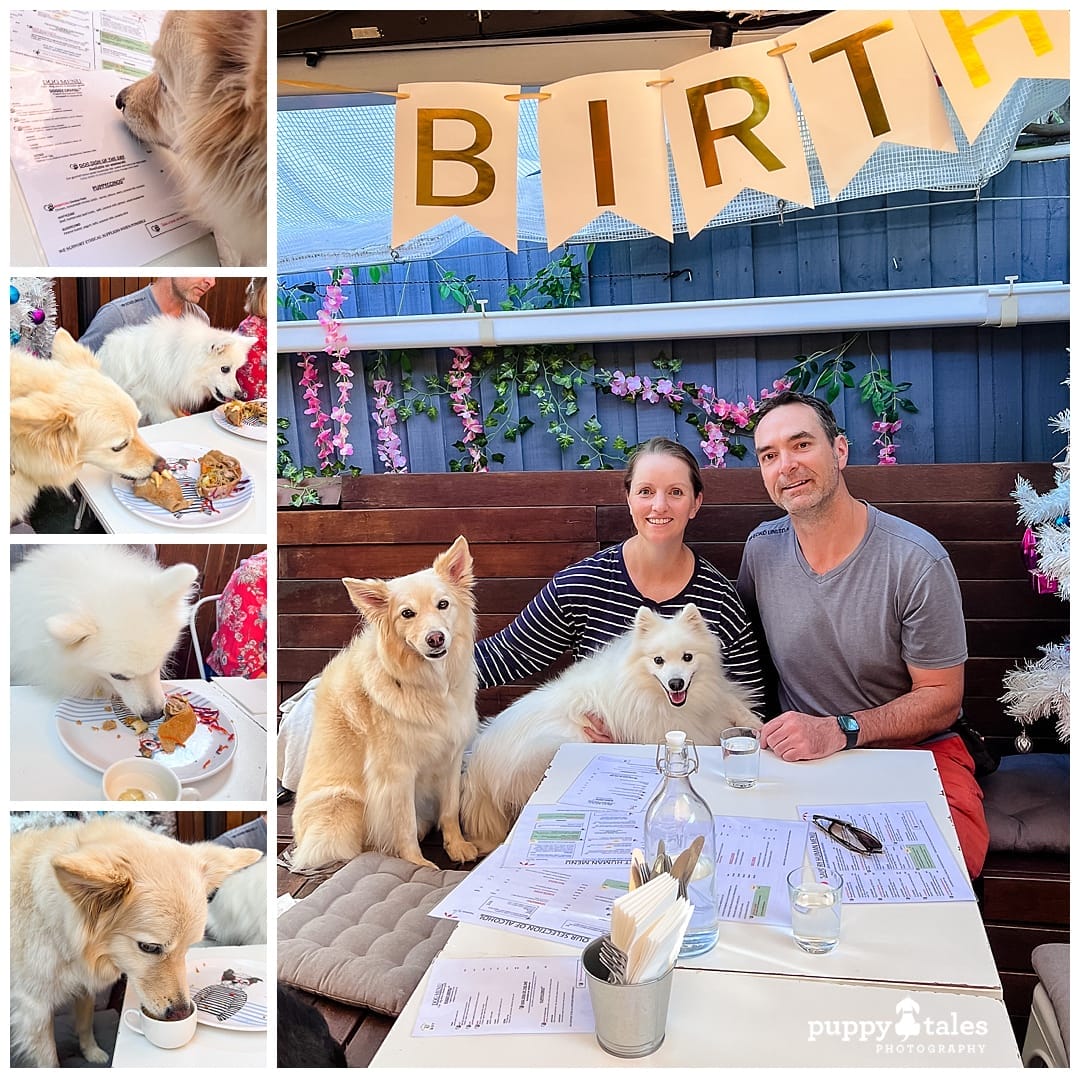 Hours: Wed – Fri 9:00am – 4:00pm, Sat & Sun 9:00am – 3:00pm
Address: 306 Whitehorse Road, Balwyn
Highlights: Pet Stylists, Doggie treats, Human treats, Day Care
Paws Up Cafe is a new doggo cafe on the scenes with food and treats for dogs and humans alike! On their menu for peeps you'll find your breakie favourites (all-day), salads, pasta and an extensive list of drinks. For the furry ones there's drinks, hot food and deserts!
Hours: Wed – Fri 10:00am – 4:30pm, Sat & Sun 9:30am – 5:00pm
Address: 195 Johnston St, Collingwood
Highlights: Dog birthday parties, Raw dog food, Shop with Dog Gear
The Doghouse is pawfectly set up for doggo diners. There's individual penned areas where you can sit with just your dog and there's an open area for pawties or social dogs. All the dog treats and the dogachinos are made fresh and on site.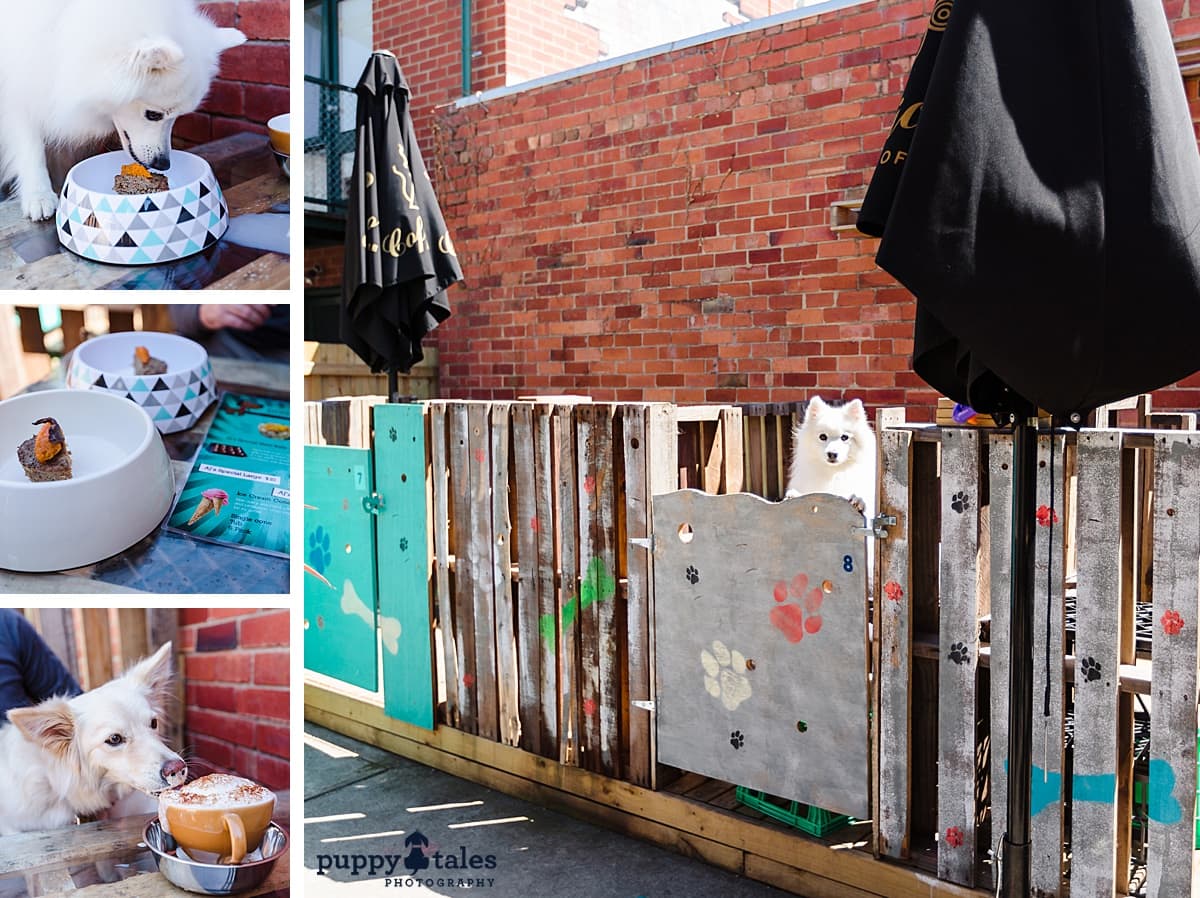 Hours: Mon – Fri 09:00am – 2:00pm, Sat & Sun 10:00am – 2:00pm
Address: 477 King Street, West Melbourne
Highlights: Doggie treats, Adopt-a-greyhound program, merchandise for greyhounds
At the Gap Cafe there's a selection of food for the humans and dogs! And it's not just for greyhounds – all breeds are welcome to relax. Greyhounds however will typically be present on Wednesdays, Thursdays and Fridays.
Hours: Wed – Fri 10:00am – 4:30pm, Sat & Sun 9:30am – 5:00pm
Address: Rear of 120 Boronia Road, Boronia
Highlights: Dog birthday parties, Doggie treats, Human treats
As well as tables around the garden area, the Dog Cafe has an undercover area in a shipping container – perfect for one of those not-so-great weatherwise days that we have in Melbourne! And we had this area just to ourselves on our visit. There's also a sandpit and a ball pit in their off-leash area.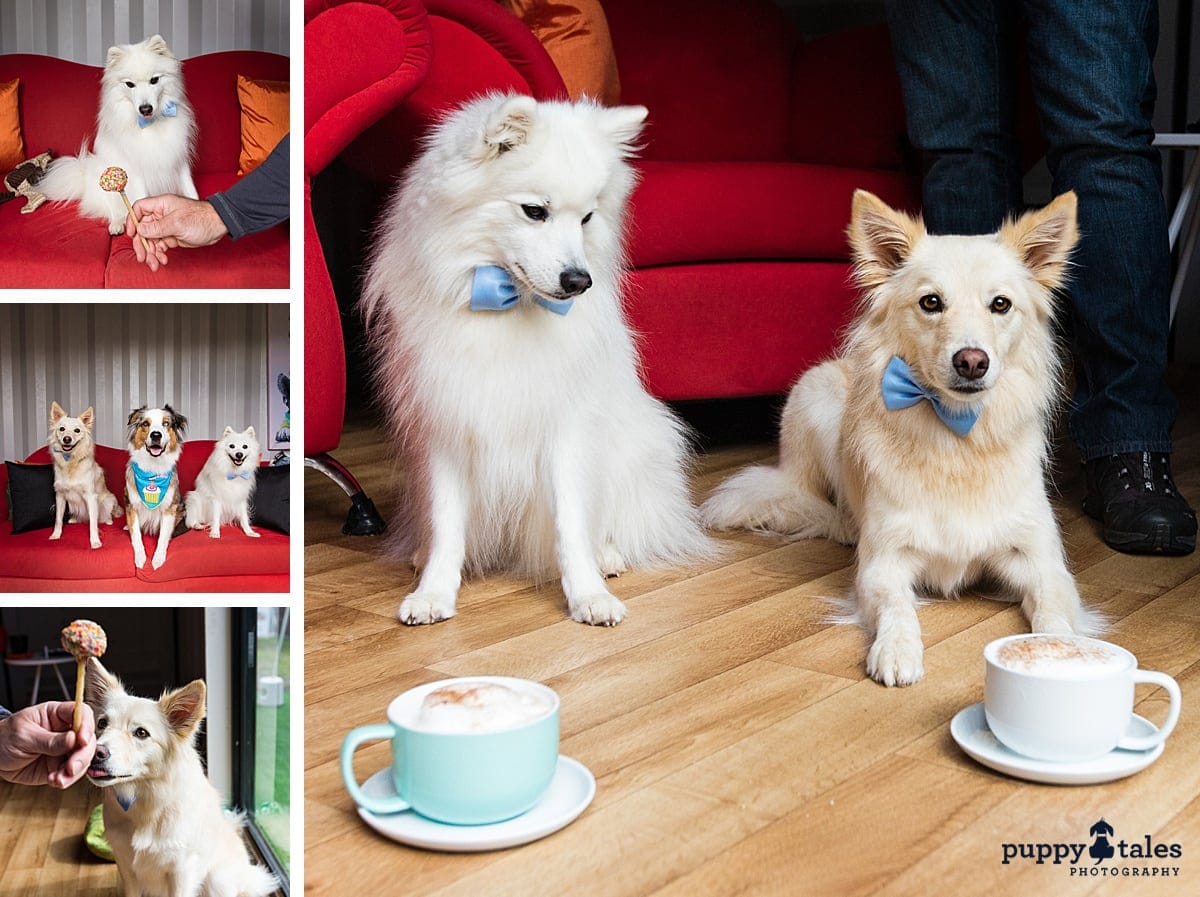 Hours: Mon – Wed 10:00 am – 4:30pm, Thu & Fri 10:00am – 5:00pm , Sat &Sun 10:00am – 3:00pm
Address: 763a High Street, Thornbury 3071
Highlights: Wide range of raw dog food including meat, minces, bones, offal, ready made meals and "mix-ins".
'Drink-In' menu for your Pooch! Select from the menu: NORM Freakshakes, L'Barkery Puppicinos, Paw Blondes and Pawseccos. Free healthy sprinkles for Doggo Bdays and Gotcha Days. Indoor and outdoor seating available.
Hours: Thurs – Fri 10:00am – 4:00pm, Sat & Sun 10:00am – 1:00pm
Address: 406 Pakington Street Newtown, Geelong
Highlights: Gourmet dog treats, Dog birthday cakes, Cat treats
What's something many of us love as much as our dogs (well, nearly!)…..chocolate! Gourmet pet chocolate has to be the eye catcher here! Now your dog can enjoy the fun too! And for the pooch with a birthday approaching their cakes are fest for doggo eyes!
Hours: Variable
Address: Variable
Highlights: Pupcakes, Dog beer, Human Coffee
Wally's is a purpose-built dog café that's mobile to celebrate, spoil and show off your furry best mate. Your dogs are sure to love their grazing boxes! Also on the doggo menu is dog beer, dog lamingtons and dog donuts! But it wouldn't be complete without pupcakes and puppachinos! Check their socials to see where they are going to be popping up or hire them to come to your pawty!
And lastly, one for the cat lovers:
Hours: Mon – Fri 11:00am – 4:00pm, Sat & Sun 11:00am – 5:00pm
Address: 30 Guildford Lane, Melbourne
Highlights: Cat lounge, Merchandise area, Food & drinks
This isn't a cafe that you visit with your cats but a social experience where you dine with the company of the venues friendly cats! You need to book ahead for this one! The day we went to head there we weren't able to visit because there wasn't a time spot available. No children under the age of 8 are permitted.
And if you'd love to have this info as a downloadable guide to keep and take with you ⬇️ ⬇️ ⬇️
Have A Doggone Good Day at A Dog Cafe
So there you have it. Have a great day out at one of our favourite dog cafes in Melbourne. And we'd love for you to share photos of your experience with us in Beyond the Backyard!
Kerry is 'Top Dog' here at Puppy Tales. With her own adored dogs, she completely gets that your four legged furry buddy is absolutely part of the family. That they sleep on the bed, that you want to take them everywhere, that you plan holidays so they're included & that their presence makes your life incredible.