Barx Active: exercise with your dog
Everyone wants to spend more time with their dog, especially with our increasingly busy, fast-moving lives. Being able to do more things with your dog in our communities is always fantastic — visit a cafe, attend a market, go to an exercise class. Yes! That's right! Can you imagine going along to a fitness session designed to give you and your dog a workout? That would be ticking two things off your list at once — time with your dog and a workout.
Today we are interviewing Karen from Barx Active who is giving us the background details on what her business is and why you should be super excited about it.
Puppy Tales: Tell us about Barx Active.
Karen: Barx Active is a dog-inclusive health and fitness community, committed to helping people to live an active life with their dog by their side. We run outdoor group fitness sessions for people and their dogs, dog-friendly hikes, and other dog-inclusive fitness activities. Barx Active sits at the intersection between the fitness and canine industries and therefore has a '50% human / 50% canine' focus.
We know that when people walk their dog, the dog is happy, but the human lacks variety in their workout. If the person goes to the gym for a better workout then their poor dog has to stay at home. Crucially, people rarely have time for both. This was the first problem that we wanted to solve. So 'Barxercise' are our dog-inclusive outdoor group fitness sessions, and we now run these sessions at 7 locations across Melbourne thanks to our growing instructor training program.
The Barx Active Team.
PT: What was your inspiration behind starting Barx Active?
A 'perfect storm' of moments compelled us to fill what we discovered to be a gaping void in life with our dog.
1) I was walking our dog Tux to an outdoor boot camp, then would tie him up on the side while I did the fitness session. I'd then walk him home again, where I would repeatedly remark to Dan "he should be able to join in with me!"
2) Dan was training for a triathlon, and would take Tux with him on some training runs and swims, but knew Tux would be left at home come race day.
3) We would often go on hikes with friends, and we would always have to ask "Can we make it somewhere dog friendly?"
We realised that people needed more ways to stay active with their dog by their side. We launched Barx Active in 2013 as a 'hobby business'. In the business world, however, passion rules, and we have now happily allowed Barx Active to grow and consume our lives!
Dan, Tux and Karen.
Is Barx Active suitable for people and dogs of all ages?
Absolutely. All dogs need to get out and move in the fresh air, and so do us humans! The 'sweet spot' for our Barxercise sessions is people who regularly walk their dog and are — or would like to be — physically active, strong and healthy. The sessions are largely circuit based and are well spread out, allowing each person and dog pair to work with the intensity and space with which they are comfortable. Dogs remain on lead throughout the session, and there is a maximum of 10 dogs per class. It is therefore a great way to socialise your dog in a controlled environment without overwhelming them. Our most common question is "What if my dog is too noisy/jumpy/timid/naughty, etc?". Well, we are certainly not an obedience class! We are all about moving and having fun with your dog — no report cards here. Some dogs nail every task we set, and other dogs … well, they just eat our marker cones. And that's OK too!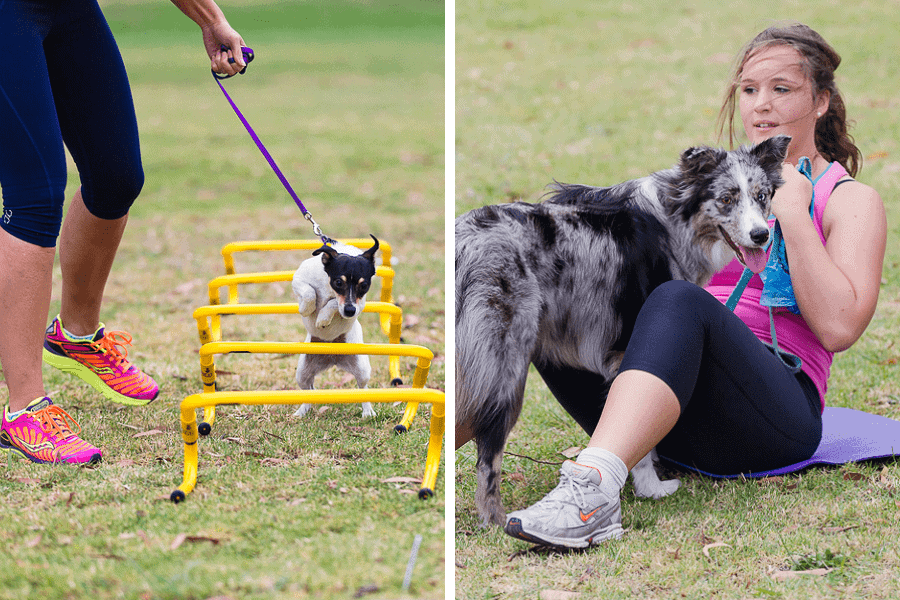 What's the advantage to working out with your dog? What benefits do the dogs get?
Dog owners have the best training partner they could ever wish for in their own backyard:
Dogs encourage us to get outside when we would otherwise have opted to stay on the couch.
Dogs are always happy to workout with us, no matter what time it is.
Dogs never laugh at how puffed we get when we run, or when our anatomy jiggles when we jump.
Dogs take the focus away from ourselves when we join a new group and give us an instant connection with other 'dog people'.
Dogs make a workout so much more fun, by licking our ears when we do a push up or lying next-to-slash-on-top-of-us while we do sit ups.
Dogs chose humans as best friends for a reason and they, too, stand to gain so much from a shared workout:
Exercise is the obvious one. The great outdoors and a good run make for a happy dog.
The mental stimulation from incorporating basic dog challenges into your own workout will tire your dog even more than a good run around.
Working out alongside other dogs is perfect for socialisation. The dogs are occupied with activities, keeping them out of trouble, yet they experience a sense of 'pack'.
The final point is the most important and is about the sense of bond between human and dog. I like to call it 'The Space Inbetween':
The connection between a human and their dog is invisible, but incredibly tangible. A tilt of the head, a wave of an arm, a sniff of the air or a scratch of the chin, and the space inbetween you and your dog conveys everything you both need to know.
This two way bond, happening in that space between you and your dog, explains what all dog owners know. This connection is truly special.
What better way to celebrate and nuture this 'space in-between', than by moving, laughing and experiencing with your dog.
We love your idea of group hikes with people and their dogs. Are these popular?
It is such a wonderful luxury to take a day out of our busy lives and experience a rustic new environment with our furry companions. Our Barx Hikes, run in a different 'day trip' location each season, have certainly been popular. A great challenge that dog owners face is finding dog friendly locations to do a wilderness walk. Most of us know that National Parks are off limits for dogs, but is it hard to know where is allowed. By having us source and guide the hike, people can simply turn up at the starting point with their pooches and enjoy the 3 to 4 hour nature walk with their incredibly happy dog or dogs. On our last hike we were sitting as a group of pups and peeps right next to the trail having lunch. We noticed a group of trail riders approaching rapidly on their horses. I thought "this could be interesting!" Fortunately the placid horses coped beautifully with the confused barks from our 'security personnel', and no equine or canine disasters developed!
There are many hidden 'dog friendly' delights within the nature trails and State Parks of Australia, and our aim is to have a Barx Hike run in every state, each month.
Do you plan to expand the Barx Active classes outside Victoria?
Absolutely. We want people everywhere to be able to nurture the bond that they share with their dog through shared physical activity. In order to do this we know that we have to develop a smart business with excellent systems and quality training. So watch this space! We are also developing exercise drill videos and online fitness routines so that people and their dogs can participate in our programs from wherever in the world they are located.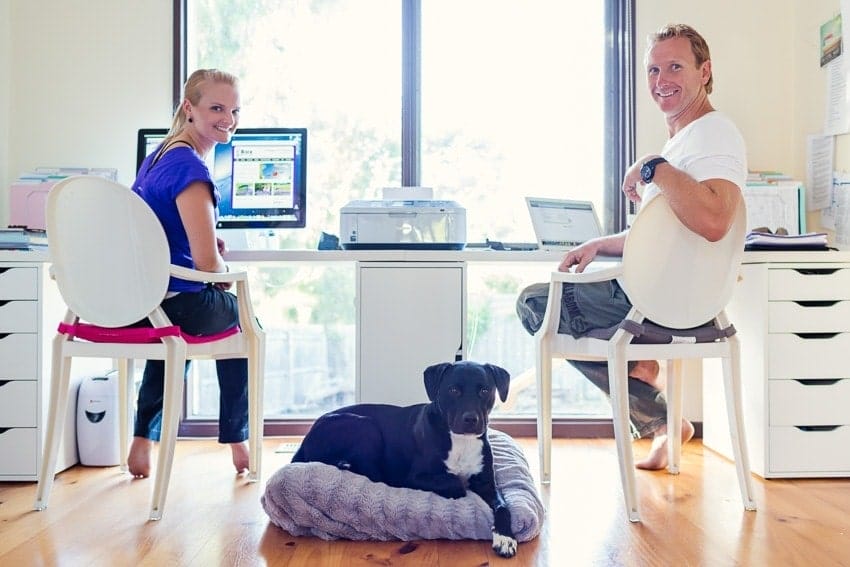 Karen, Tux and Dan.
Tell us a bit about your dog Tux. Does he attend every class?
Our darling boy Tux we adopted from a Rescue Centre at 12 weeks of age in 2011. He is a short haired border collie, crossed with who-knows-what. His love of anything in the general food category of 'food' is eclipsed — only just — by his love of 'red ball', the indestructible ball we bought him when he had popped and ripped the felt off his 213th tennis ball.
Dogs have inspired many businesses across the world, and so it was with Tux, inspiring us to start a business that allowed us to bring him to the office and spend time with him in the great outdoors.
Tux is instrumental in working with us to develop new exercise drills, is the star of our online videos, and is chief of quality control for our Barx Hikes.
When new people and dogs are attending our Barxercise sessions, Tux stays at home chewing on a bone, to allow us to be fully available to help people and their dogs learn the ropes. As the business grows, Tux sees his role more as 'behind the scenes' in strategy and business development. He loves to stand back and allow all of the new dogs joining our Barx Active community to shine.
Tux, Karen and Dan.
Barx Active Bio
Barx Active is a dog inclusive health and fitness community, committed to helping you to live an active life with your dog by your side. Barx Active was developed by Physiotherapists and dog lovers Dan and Karen Uden who longed to include their handsome border collie cross — Tux — into all of their adventures. Karen and Dan found that the fitness industry catered to humans and the canine industry catered to dogs, but that no community simultaneously met the needs of both. So they created it. Barx Active nurtures the bond between a human and their best friend, through dog inclusive fitness sessions, hikes and events.
All images are taken by Puppy Tales Photography.