Dog: Barney
Breed: Australian Cattle Dog
Age: 7 years
Human: Sophie & Joel
His Motto in Life: There's no dog quite like him!
Describe Barney's breed paw-sonality? What makes him so special?
Barney is so hard to describe, because there's no dog quite like him! His loyalty is the most Australian Cattle Dog thing about him. His past means that he has a lot of behavioural traits that some people find hard to manage. But once he's decided that he likes you he loves you BIG and is the most affectionate dog either of us have had. Barney is an extremely vocal dog, unfortunately for him it's 95% growling, so he doesn't make friends easily. Over the past year, we've learnt to distinguish his different growls (or "purring" as we call it) and know when it's a loving gesture, when he's worried or when excited about something. It's one of the reasons he had so many failed adoptions, but now that we know what he's "talking about" we can see that he's just a big cuddly bear with social skill issues, haha! Seeing him re-live his puppy faze has been beautiful, he bounds around like a pup and is most excited when he has a new soft toy to love (and then destroy).
Is this the first time you've had an Australian Cattle Dog or do you have a longer history with the breed?
Joel grew up with Golden Retrievers, but his Grandparents had an Australian Cattle Dog when he was younger and he was obsessed with her, hence the decision in getting one of our own.
What's life like with an Australian Cattle Dog?
Busy!! They need constant entertainment, be that LONG walks, toys, training, agility, etc.
What was different from your expectations of an Australian Cattle Dog, once you had Barney?
Our expectations met our reality in getting our dogs in terms of breed. However, Barney was our first rescue (as our families had never rescued, either) so that was a big learning curve in terms of how to rehabilitate a senior dog with behavioural issues.
Barney is a rescue who was dumped and left to fend for himself on the streets. We don't know a whole heap about his past but we believe that he has been abused. Due to these trust issues, he had 3 failed adoptions and the rescue group thought no one would be able to handle him. My husband and I have worked extremely hard in getting Barney to trust, play, try new experiences and most importantly – love again. Despite this tough start to life (we got him when he was 6), Barney has come along in leaps and bounds and is the most cuddly bear-dog you've ever met! He demonstrates the best parts of an ACD; unconditional loyalty, strength, intelligence and hard work.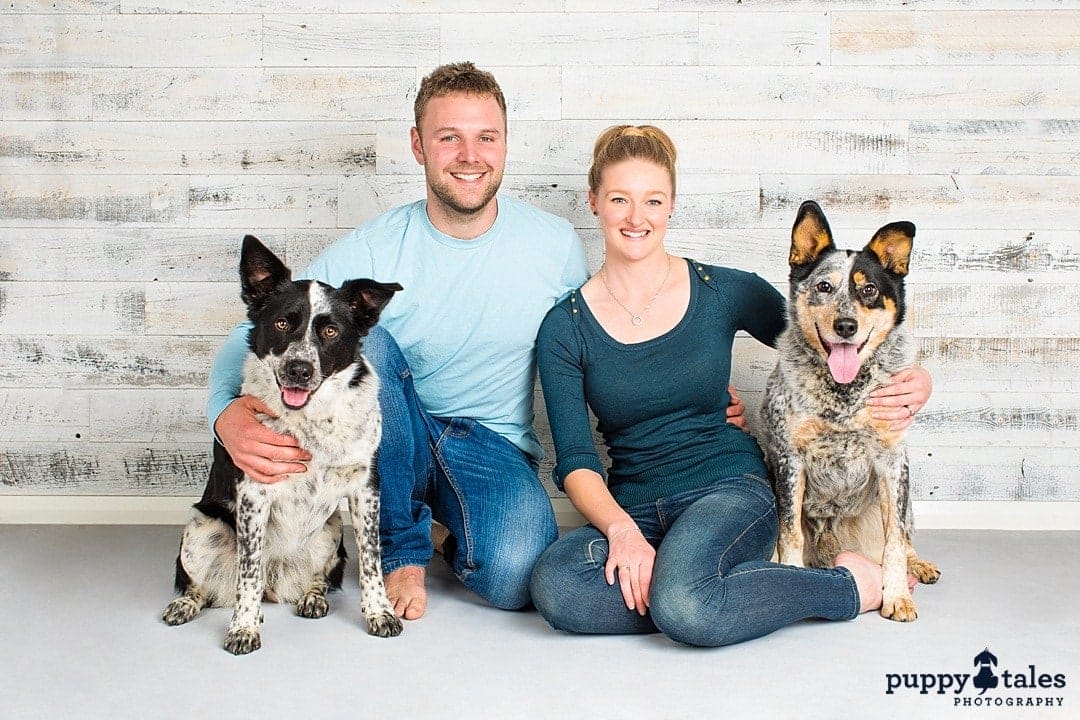 Is Barney like most other Australian Cattle Dog, or does he have some unique traits?
Barney's vocalisations is also unique to us because he really does tell us exactly what he's thinking/feeling!
What do you love most about being a pet parent to an Australian Cattle Dog?
All the affection we can give and receive. We love having active dogs because we can take them camping/hiking/adventures and know that they'll just go along with the flow. Having bigger dogs means we can rough and tumble with them, too, which we love.
What's not so paw-fect about an Australian Cattle Dog?
They need a lot of time and attention to be good dogs. With their working heritage too it was very important that we redirected their nipping behaviour to be with toys and not feet! Having a working breed is not for the faint-hearted or underconfident trainer!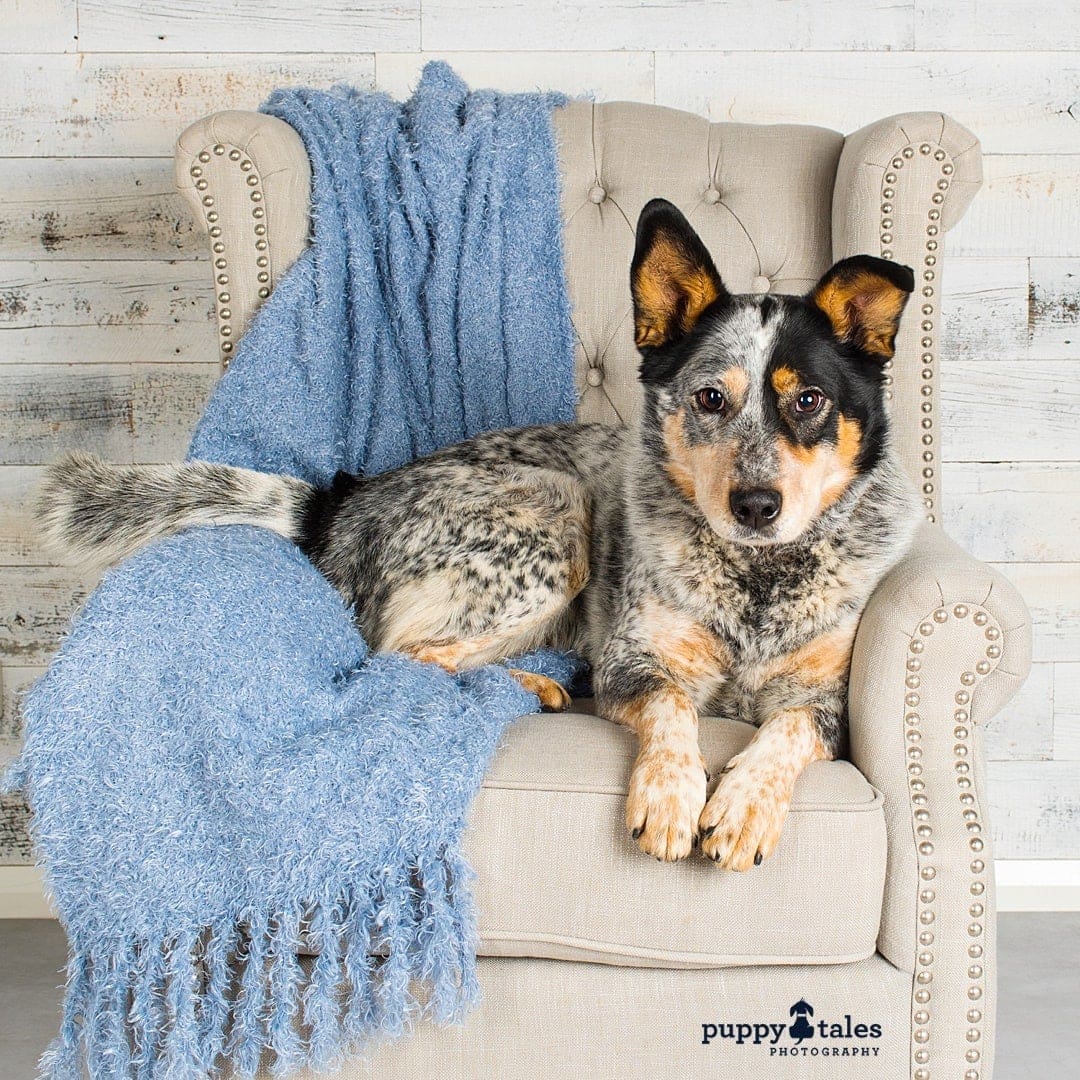 What things should others be aware of before getting an Australian Cattle Dog? Any advice, tips or suggestions for fellow parents of ACDs?
Obedience training is more important than trick training. Getting their obedience down-pat, having them know that we make the decision for the pack was a lot of work with Barney so that they would listen to us in a variety of situations. After this, trick training is great for mental stimulation and for fun, but obedience is always more important.
What is Barney's most lovable trait?
Barney has the most proper and Royal-like sit I've ever seen in a dog. His patterns are stunning but my favourite feature is one ear that tips back and one that tips forward, making it look like a wave. I adore how proud he looks when he gets a new stuffed-toy and never lets it go!
What's your first memory of Barney?
Barney was a rescue from Australian Working Dog Rescue, Joel had wanted a second dog for a while (as he always grew up with 2 dogs, whereas I had only grown up with 1). Barney came up on their website and we just felt that we were drawn to him. After enquiring and sending in our application the foster carer called us and told us everything. We thought we could manage his behaviours and were confident enough in our training methods that it could work.
We flew him down from Sydney and I went with my Mum to pick him up from the airport. He came around the corner on the baggage cart and looked so handsome. I was so excited to finally see him in person after a month of processes. Then came the nervousness about how he'd be with Molly, but I was so happy that he finally had a home.
What nicknames does Barney have? How did they come about?
Mr. Handsome, Crazy-cat, Bear-dog, Barney Rumble, Barnabus, Mr.Magoo, Crazy man. They were said one day and then stuck!
Barney has a fursister Molly! She's a Border Collie x Australian Cattle Dog, meet her here.
Kerry is 'Top Dog' here at Puppy Tales. With her own adored dogs, she completely gets that your four legged furry buddy is absolutely part of the family. That they sleep on the bed, that you want to take them everywhere, that you plan holidays so they're included & that their presence makes your life incredible.