Alure Stanthorpe is peacefully set amongst bushland and, lucky for us dog lovers, has one luxury pet friendly villa. Located only 10 minutes drive from Stanthorpe, it's the perfect spot to relax and take in granite mountain views. This can be done from your private deck or inside through the large floor to ceiling windows.
As the temperature drops in the afternoon, slip into the heated spa, sip on a local wine and unwind. Then head indoors to enjoy a night in front of the fire, watching Netflix or just relaxing in the company of your partner and best buddy. And after a wonderful nights sleep in the king size bed, wake and enjoy a breakfast of delectable local produce.
While you can self-cater for your stay, if you don't feel like cooking (ie., want to have a totally indulgent evening!), then you can organise dinner to be provided.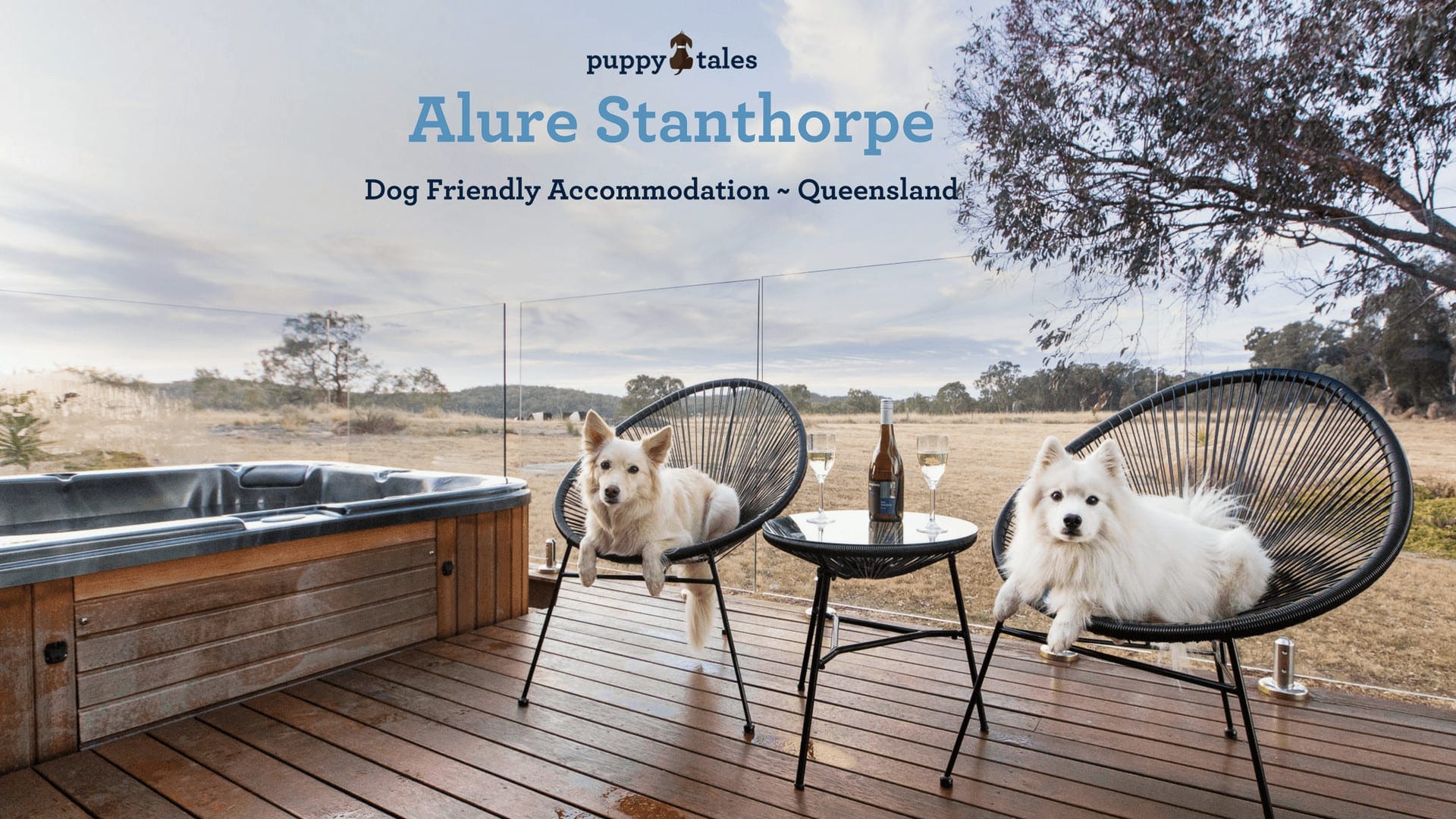 Accommodation Type: Luxury spa villa
Location: Alure Stanthorpe is located just 5 minutes drive from the centre of Stanthorpe. Stanthorpe is in Queensland's High Country, approximately 3 hours drive from Brisbane.
Number of Bedrooms/Beds/Guests: 1 King size bed in an open plan villa (2 adults, 2 dogs maximum)
Number of Bathrooms: 1 bathroom, plus a spa on the private deck
Suitable For: Couples looking for a secluded getaway… and their pooches
Price Bracket: $$$$$
Access & Parking: Alure is located on a farm property. Check in is at the main house, where you'll also be greeted by the resident dogs Bella and Caspian in the adjacent paddock (they are working dogs, so visiting dogs need to remain in the car or on lead during check-in and not to approach the dogs as they are working flock guardians). Then you proceed to your villa via a dirt road (accessible by any type of vehicle). Undercover parking is provided for one vehicle.
Recommended Time Of Year to Visit: Winter was a fantastic time to visit! That said, the average temperature in summer is only in the mid – high 20's, so really anytime of the year would be great to visit. We were told that the Autumn leaves are beautiful, as are the Spring wildflowers. The property has a split system air conditioner so you can keep cool if it's a little warm outside.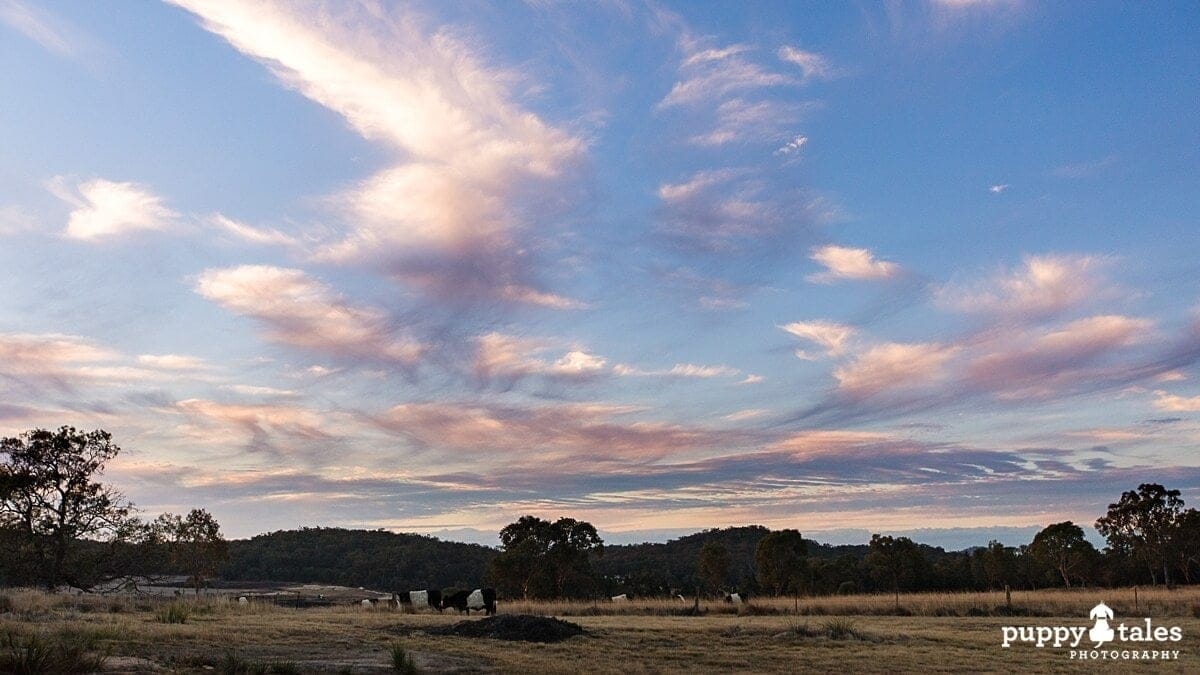 Dog Friendly Features
Your dogs receive their own personalised pamper pack of dog treats and locally made doggy soap. They also have the use of a luxurious robe and snuggly bed to rest on for their stay. Food and water bowls are provided as well as doggy bags if you forget or run out of your own. The deck and spa area is fully secured with glass fencing. You can also take them for a walk around the property on lead.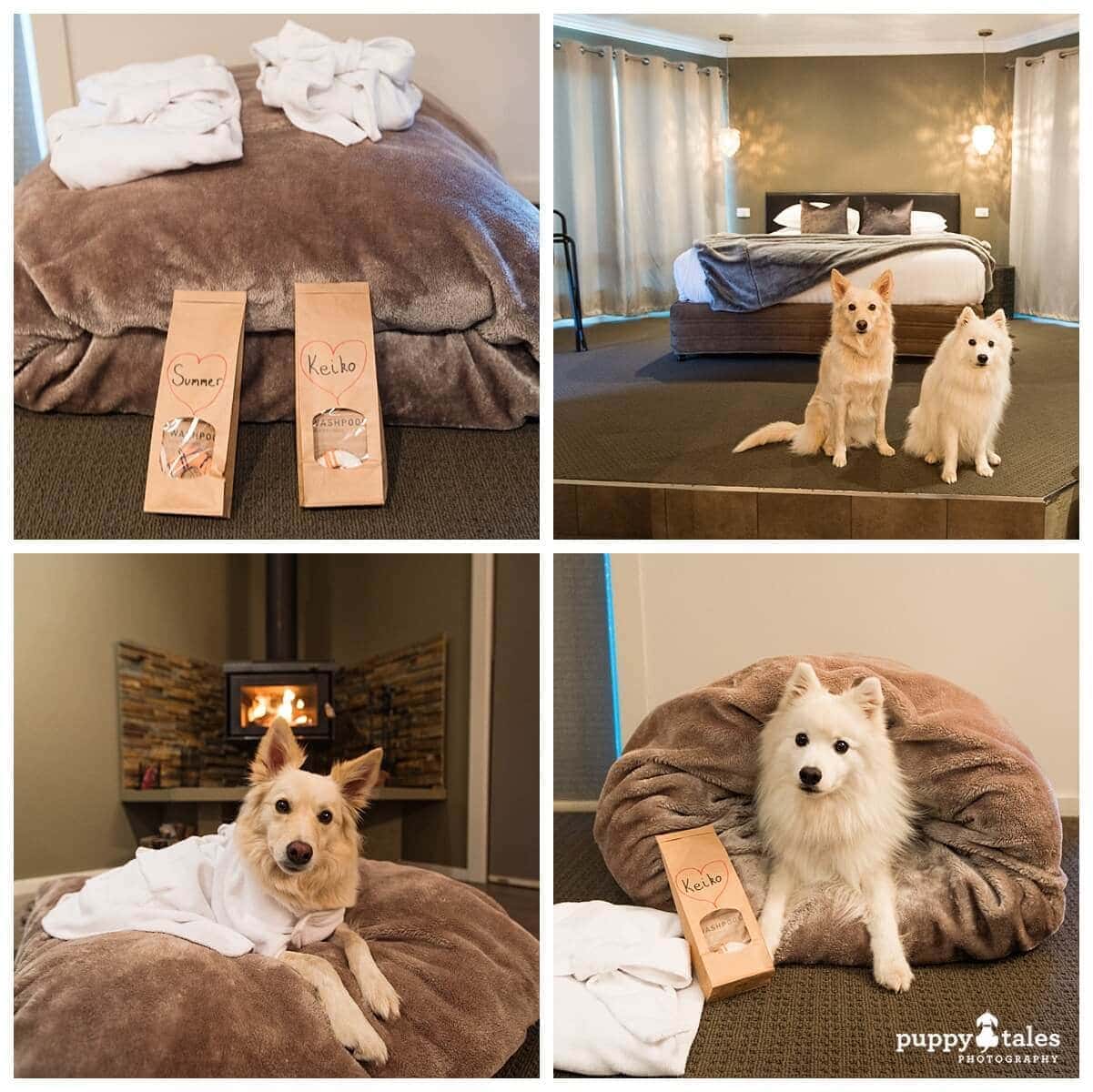 For the Humans
Heated outdoor spa
Plush bathrobes and slippers
Fireplace with wood provided
Split system heating and cooling
Breakfast basket full of local produce
Fully equipped kitchen with coffee machine
Table and chairs on the spa deck with BBQ
DVDs and Netflix
Complimentary WiFi
Laundry

What we Loved
It's close to Stanthorpe but secluded on the property, which makes it fantastic for feeling that you're 'getting away'.
The fireplace was set on our arrival, just waiting to be lit up.
Jumping in the heated spa on the deck with a glass of wine from one of the many cellar doors nearby was fantastic. It's a heated spa so you'll only notice the cool outside temperature because your wine doesn't warm up! It was the perfect spot to watch the sunset and the stars come out.
The large bathroom had complimentary toiletries, including soap and massage oil from the local Washpool Farm.
The breakfast basket with 'Tastes of The Granite Belt' theme was delicious and meant we didn't have to think of a thing for breakfast.
Netflx and complimentary WiFi – always appreciated.
Things to Know
Not suitable for those traveling with (human) children.
Check in from 3pm and check out by 11am.
Dogs are not allowed on the furniture… or in the spa.
If needed, there are two vets in Stanthorpe.

For More Info
To book or for further information, check out their website www.alurestanthorpe.com.au
We stayed at Alure Stanthorpe in June 2018. Information and services available may have changed since then. Please confirm any special requirements or wishes with Alure Stanthorpe prior to visiting yourself just to ensure that you too have a wonderful stay!
Kerry is 'Top Dog' here at Puppy Tales. With her own adored dogs, she completely gets that your four legged furry buddy is absolutely part of the family. That they sleep on the bed, that you want to take them everywhere, that you plan holidays so they're included & that their presence makes your life incredible.