Got a tough chomper in your home? We're frequently asked to recommend tough toys for the dogs of yours who like to chew and destroy!
My dogs, even though they are medium sized, will destroy any and all toys I give them and I have bought all kinds of things for them. They love to play the toys but they are mass destroyers. I'm always finding pieces of toys on the floor. Wow! They are something. ~Annette
If you're like Annette, you're not alone! And, of course we wanted to offer some help. Our dogs enjoy a chew like many others, but they're not the biggest and strongest of dog breeds, so we thought to bring you the best recommendations for tough toys we'd ask the incredibly sharing and helpful Puppy Tales community! From their many responses we've compiled the list of the top tough toys for your dog.
Recommended Tough Toys for Dogs
#1 Kong
Kong toys are amazing. Have had the same one for 12 years with my now passed boy and another 2 years with my current boy. Absolutely indestructible. ~Gayle
The by-far most popular recommendation for tough toys is the Kong range. The Extreme Kong's made from Black Ultra-Flex are the toughest but there's also have a wide range of rubber built-to-chew toys – for puppies, seniors, dental, for use with treats and interactive – all in a variety of sizes and shapes so you should be able to find just the right one for your dog.
#2 Nylabone
A hard thick plastic dental bone my golden retriever can't get anything off it and he tries everyday and has been for the last 4-5 months ~ Christina
Nylabone has a large range of different tough toys for powerful chewers. There's a large offering of different designs and features, including some that are chicken, bacon and peanut butter flavoured! Many of the designs are said to have other benefits for your dog – for example, the Daily Dental products provides dental stimulation, massages gums and reduces tartar.
#3 West Paws Design Tux Treat Toy
Made from Zogoflex material (nope, we're entirely sure what that is but it does sound fitting!) the West Paw Design range is designed to be tough yet being pliable and bendy so they are gentle on your dogs teeth. They bounce and float which gives them additional usage, including at the beach or your dogs local swimming destination. They can also be stuffed with treats! These toys come with single free replacement, should your dog find a way to destroy them.
#4 GoughNuts Chew Toys
GoughNuts uses a tough and durable rubber. A great feature of the GoughNuts chew toys is their safety indicator – there's an inner red layer – and when you can see this it's time to take the toy from your dog. These toys also have a guarantee – if you see this safety indicator, they will replace the toy.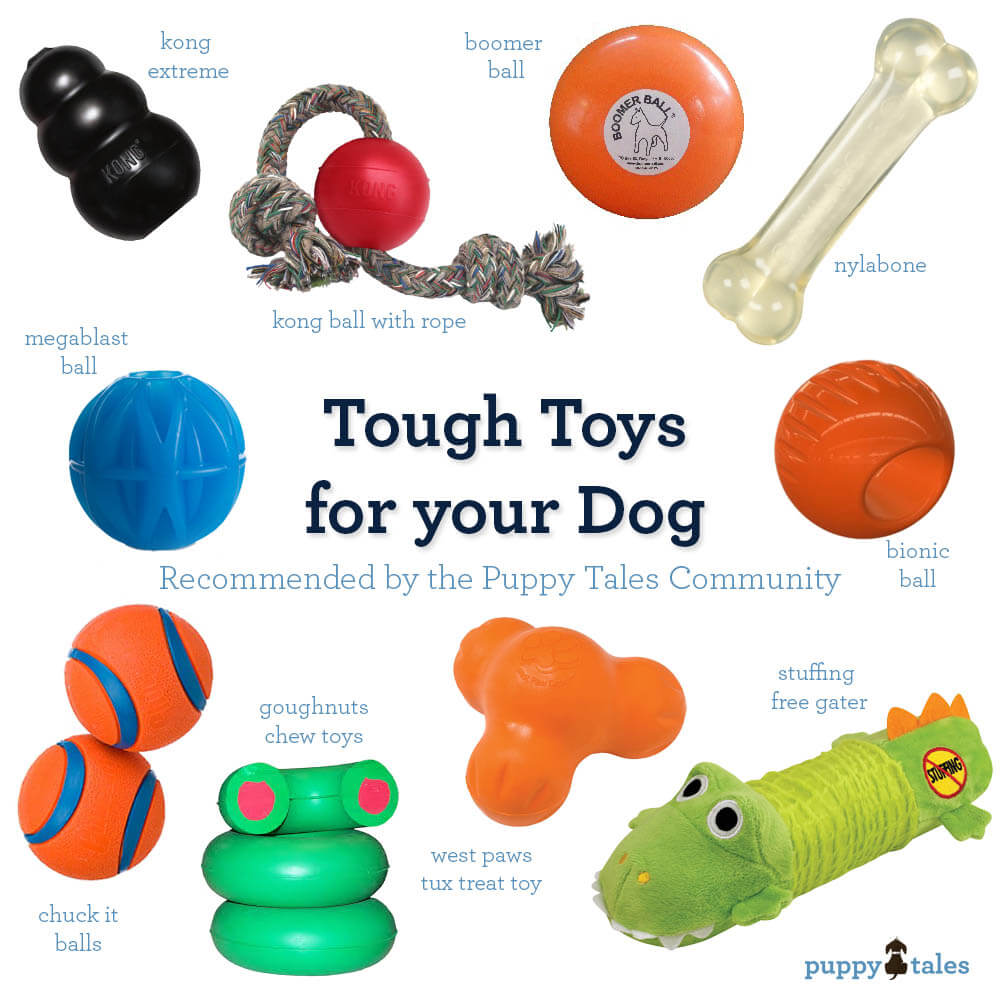 Dogs loves to play with balls, but not all are made to withstand a strong jawed dog. The next few balls though are different – they're balls designed to be tough for determined chewers!
#5 Bionic Ball
The Bionic Ball might just be the tough ball that you're looking for. Sized the same as a tennis ball and made from Bionic Rubber (and there's an explanation on the site as to what this is!), it's features include both a normal and unpredictable bounce, that it fits within chucking toys, can be stuffed with treats or peanut butter and it floats. They offer a free one time replacement guarantee, however you need to send the product into California in the United States which may not be practical for those living outside the US.
#6 Chuck it balls
Our German shepherd and lab mixes and they can destroy anything! The refill pack of chuck-it balls does well as long as used during play time and not as a chew toy. ~Amanda
Chuck it balls are another tough balls that your dog can play fetch with! They are a hallow ball made from a natural high bounce rubber – they're waterproof, buoyant, easy to clean, durable, light and important, tough! Used with the Chuck it Launcher, these are a favourite of ours also with our Border Collie Rosie – she's needs to run and needs rather tough toys!
#7 Boomer Balls
Boomer balls . Just do not kick – it hurts. My rotties have had a large one for four years still going strong. ~Sue
Boomer Balls are ultra-tough polymer balls that are reportedly virtually indestructible. They are designed for larger-than-life dogs that love chase, chew and conquer their toys. These balls are not designed to be picked up by your so they should be a size larger than your dog can fit in their mouth, pick up or carry. The balls range in size from 4.5 inches for small framed dogs to 20 inches for large dogs. They even come in 30 inches for wild animals like lions, polar bears and elephants (for enrichment in zoos and wildlife centres)
#8 Megablast Ball
The Megablast Ball is made from thermo plastic rubber and infused with vanilla extract. It's mega-durable, mega-bouncy and can float! The balls can be filled with treats, come in three sizes and three colours.
#9 Stuffing Free Gator
Our last recommended tough toy is the Stuffing Free Gator dog toy. While not promoted as indestructible, this is a 'tough' soft toy. Being stuffing free its safer and less messy if your dog does penetrate the outer lining. It comes with two different sounding squeakers which many dogs will find irresistible! These squeakers keep their form even after they are punctured. And its long shape makes it perfect for your dog to carry about and toss.
A little note – many of these tough toys come with replacement guarantees – however we can't verify which countries these are available in. We've included the guarantees in this article as we believe it speaks to the quality of the product. If the replacement guarantee is important in your purchase decision, we recommend you check the conditions offered at your place of purchase.
Tough Toys Tips
All dogs are different – what might be a tough and indestructible for one dog, may not be chew proof for another. We've put together some tips to help you get the most from your tough toys with your dogs:
All toys are best used under supervision, even "indestructible" dog toys can deteriorate over time or be damaged/destroyed by some dogs. Frequently check your dogs toys for damage or holes and replace them when you find these signs of wear. There are many tales of dogs shallowing portions and them becoming lodged somewhere unpleasant, chippy teeth and the like.
Make sure you get the appropriate size and age for your dog. If you get a 'tough toy' but not the right size or the puppy version then your dog is more likely to damage or destroy the toy.
If your dog is not interested in chew toys, try those that allow you to fill with treats. These are more likely to get your dogs attention and keep it for longer.
Did we miss any of the tough toys you prefer for your dogs? Leave us a comment and share your thoughts.
Kerry is 'Top Dog' here at Puppy Tales. With her own adored dogs, she completely gets that your four legged furry buddy is absolutely part of the family. That they sleep on the bed, that you want to take them everywhere, that you plan holidays so they're included & that their presence makes your life incredible.